Police Constables 944 Kimone Homer, 178 Kenneth Dembar and 446 Johnroy Haywood were recognised for their achievements in sports and entertainment, while Corporal 675 Desrick Quashie was awarded for bravery in 2022.
They joined nine officers who were also awarded for academic achievements in 2022 as the Royal St. Vincent and the Grenadines Police Force held its Annual Awards and Retirement Ceremony in Kingstown on Friday, Dec. 30, 2022.
Homer and Dembar were declared Police Sports Woman and Sports Man of the Year, while Haywood, a soca artiste, was adjudged Police Entertainer of the Year.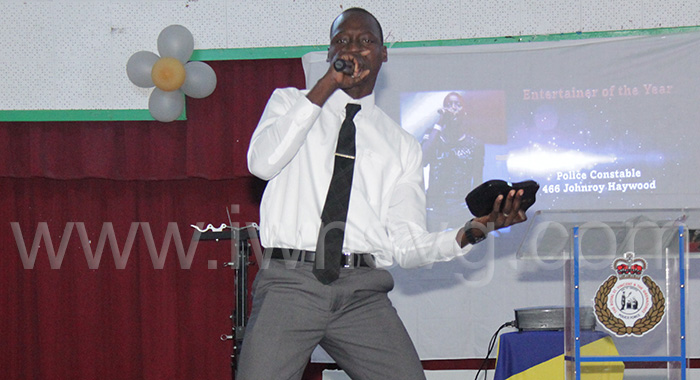 Quashie was cited for skilfully disarming and apprehending a suspect, thus preventing the suspect from injuring other persons.
"The suspect was subsequently charged with several serious and indictable offences," the citation read at the ceremony said.
Homer, who enlisted two years ago and is attached to the Special Services Unit, is a cricketer, a sport she took up at age 10.
In 2020, she was named vice-captain of St. Vincent and the Grenadines Senior Female Cricket Team, and was selected to the SVG Under-19 Female Cricket Team in 2021.
She was later selected to the Windward Islands Senior Female Cricket Team, which participated in the West Indies tournament in Guyana from June to August 2022.
The prolific female cricketer participated in several training camps in 2022, including the high-performance training camp in August, the development training for the West Indies Senior Female Cricket Team in October and the West Indies Senior Female Cricket development camp in November, all held in Antigua and Barbuda.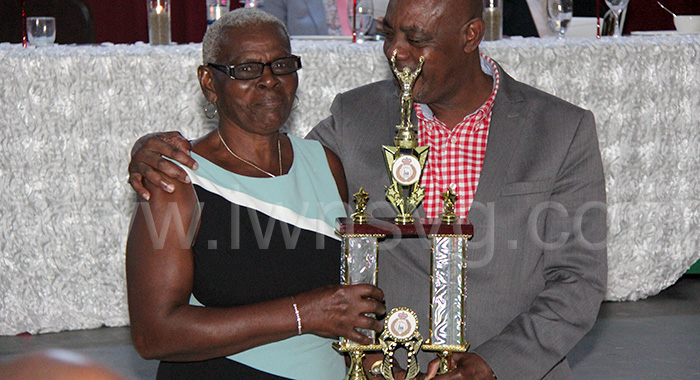 Unlike Homer, however, Dembar is a professional cricketer, whose career started with the Windward Islands Volcanoes franchise as a contracted player in July 2019.
The offspinner enlisted in the police force on Sept. 1, 2014.
After a long break from playing professional cricket in 2020 due to the COVID-19 pandemic, he was selected to play in the CG United Super 50 Cup in Antigua and Barbuda in 2021.
On his debut against Trinidad and Tobago Red Force, Dembar finished with figures of 6.3 overs, 1 maiden and 1 wicket for 34 runs.
Based on his performance in that tournament, Dembar was selected to play in the West Indies four-day championship in 2022 in Trinidad and Tobago.
In that match against the Guyana Harpy Eagles at the Queen's Park Oval, he picked up his maiden 5-wicket haul and achieved his personal best bowling figures of 9 wickets for 116 runs, 4 maidens, off 44 overs.
He finished the tournament as the lead wicket-taker for the Windward Islands Volcanoes and fifth place for most wickets overall.
In October 2022, Dembar was selected to represent Windward Island Volcanoes in the regional Super 50 tournament in Trinidad and Tobago.
Again, he excelled and finished with another personal best bowling figures of 2 wickets for 46 runs, 1 maiden off 10 overs.
For his outstanding performance in regional cricket in 2022 On December 21 2022, he was awarded the title of Regional Cricketer of the Year by the St. Vincent and the Grenadines Cricket Association.
Dembar, who is attached to the Fire Department, was out of state and his mother received the award on his behalf.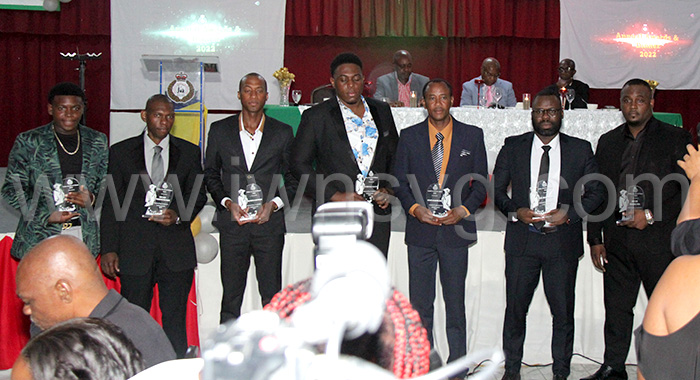 The officers recognised for their academic achievements were: Chief petty Officer 291 Gordon Charles, Sergeants 346 Dwight Gordon Lewis and 470 Cornelius Tittle, Corporals 38 Devon Bute and 808 Verna John, Police Constables 270 Jovarnie Browne, 933 Elroy Quashie, and 993 Tanisha Samuel and Able Seaman 254 Devante Fergus,