The announcement of the Policeman of the Year 2022 on Friday, Dec. 30. 2022, left a former detective teary eyed as his protégé distinguished himself among the 1,100 men serving in the Royal St. Vincent and the Grenadines Police Force (RSVGPF).
Adolphus Delplesche, who attained the rank of detective inspector before transferring to the National Prosecution Service from which he retired in 2021 as senior prosecutor, told iWitness News that he cried as detective Sergeant 740 Biorn Duncan was announced as the RSVGPF's Policeman of the Year 2022.
Also, in an equally celebratory mood at the event in Kingstown mood was retired detective Assistant Superintendent of Police Sydney "Gold Teeth" James, who helped to mould Duncan into one of the nation's top investigators of serious crimes and retired Commissioner of Police Michael Charles, who led the constabulary for much of Duncan's tenure.
Delplesche, then assigned to the Criminal Investigations Department, had to contend with his superiors after he assigned a homicide investigation to the then relatively inexperienced detective.
He defended his actions, saying that he would hold Duncan's hands through the process.
That decision, along with the guidance that Duncan received from his other mentors and superiors, along with his focused dedication and people skills, makes him one of the nation's best and most widely-respected investigators.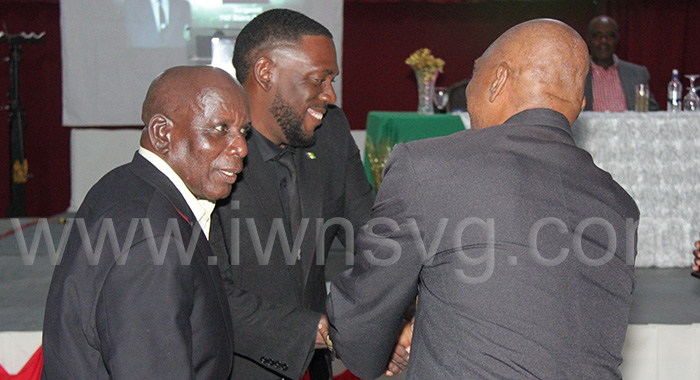 And, after 18 years of service, Duncan, as well Corporal Lafleur Williams of the Rapid Response Unit (RRU/"Black Squad") were recognised as the Policeman and Policewoman of the year 2022.
Williams was described as committed and astute in meeting deadlines and having an A-plus attendance record.
"She is dedicated, disciplined and extends herself beyond the call of duty," the citation said.
At times, she remains on the job after her shift to make sure her work is completed effectively and efficiently.
Williams is said to be very reliable and can be called upon at short notice.
The officer sometimes uses her days off to conduct lectures in her department and has never had disciplinary charges brought against her.
"She makes a concerted effort to remain calm during the most difficult and pressured situations, especially when dealing with cases and of illegal drugs, guns and ammunition.
In 2022, Williams seized four illegal firearms (the police force seized a total of 35), 500 grammes of cannabis, 59,939 grammes (59.9 kgs/132lbs) of cocaine, and confiscated $8,200 in counterfeit U.S. notes.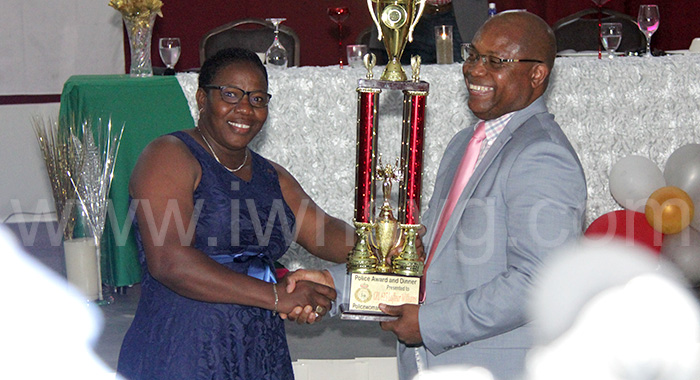 Meanwhile, Duncan has spent the majority of his policing career – 17 years — attached to the Major Crimes Unit, where has investigated a number of high-profile cases including bank fraud, deception, corruption and money laundering.
The citating said that throughout his career Duncan has been commended publicly by prosecutors, magistrates and judges for his excellent investigative and evidentiary skills.
"This resourceful officer is a very skilled interviewer, interrogator in the area of electronic interviewing of suspects involved in serious crimes. He is among a very small circle of detectives who have a unique responsibility of lecturing police recruits in this critical area at the police training school," the citation said.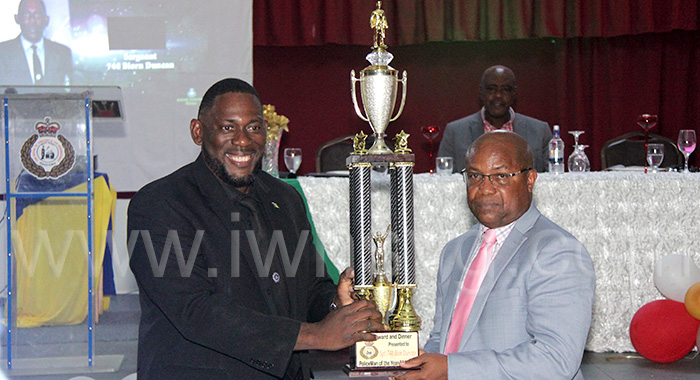 He was recognised on four occasions as the best detective at the Major Crimes Unit.
Further, he is the police liaison officer with the Stony Ground Neighbourhood Watch Group.
Duncan has extensive training in the crime scene investigation, gang investigation, and homicide investigation.
This year, he placed third for top crime investigator at the 2022 Association of Caribbean Commissioners of Police and Security Services regional recognition award programme in Miami.
Twenty-four other countries besides SVG participated in the programme.
The RRU/Special Patrol Unit were deemed the most outstanding unit/department in the police force this year.
Friday's ceremony was held under the theme "Amidst the Challenges, we continue to Care, Serve and Protect".