Former member of the National Heroes Selection Committee, Jomo Thomas says the time is right to name more national heroes in St. Vincent and the Grenadines (SVG) but the nation's first prime minister, Robert Milton Cato, should not be among them.
In SVG, only dead people can be declared national hero and Thomas made a case for George Augustus McIntosh, a pharmacist, who distinguished himself as a labour and political leader, former premier Ebenezer Theodore Joshua, JP Eustace, founder of the Emmanuel and Intermediate high schools, and Samuel "Sheriff" Lewis, a working-class man who led the 1935 rebellion against higher prices for basic commodities, such as kerosine.
"I am absolutely of the view that Robert Milton Cato does not reach the status of hero," said Thomas, who in April 2013 resigned from the committee in protest against a speech Prime Minister Ralph Gonsalves delivered on national heroes.
In the lecture, Gonsalves made a case for Cato, one of his former political nemeses but whose Labour Party base he later inherited, to be declared a national hero.
Speaking recently in his "Plain Talk" commentary on Boom FM, Thomas said:
"Robert Milton Cato was, in my estimation, the most repressive political leader in St. Vincent, with the possible exception now of Ralph Gonsalves in the sense that Robert Milton Cato, I remember as a young man, young person, doing protest action, he was always willing to bring out the police force in real, real, real massive force."
Cato was prime minister from independence in 1979 to 1984. Before that, the was chief minister from 1967 to 1969, when SVG became and associated state, and the first premier on the entry into statehood in 1969.
Cato was opposition leader from 1972 to 1974 and was back in office from 1974 to 1984.
Thomas, a lawyer and former speaker of the House of Assembly, said that under the Cato administrations, the homes of political activists were constantly stormed and police would dig up their yard searching for gun and ammunition.
He said that among the people who were treated in this way is social commentator Renrick Rose, and the late Parnell Campbell, who went on to become attorney general under the New Democratic Party, which unseated Cato's government.
"That kind of repression, … that was manifested by Robert Miller Cato," Thomas said, adding, "He had a real disdain for ordinary people."
He said that in 1979, when the efforts were being mounted for independence, a broad group of people came together in the National Independence Committee, headed by Henry Williams, an esteemed lawyer.
"And Cato's view was that this is a bunch of nincompoops. 'What are they talking about, about they want to be participating in efforts for independence? This is my project'," Thomas said.
"So, much in the same way in which Milton Cato acted, to the extent that Cato is eclipsed in terms of disregard for people in terms of oppressive, repressive actions, as we are seeing now with the use of the police, the arbitrary detention and arrest of people and so on, I think only Gonsalves might have eclipsed that. So clearly, I don't see any basis upon which Robert Milton Cato should be a hero."
He noted that some people would say that Cato is the father of the nation in the sense that he led SVG to political independence from Britain.
"But the British had already sucked the Caribbean dry. The British were removing themselves from the Caribbean. So, there was no struggle for independence, in the way in which, like, on the African continent…
"The British said, 'Okay, you can take it, we have we have sucked it dry, we are giving it to you now, because there's nothing else there for us.'"
He said that Cato being prime minister at the time of independence, by itself, "is not sufficient for him to be a national hero.
"But again, the political elite, Prime Minister Gonsalves is prime minister, Cabinet makes the decision, so don't be surprised if Cato is named [today] as a national hero," he said, referring to National Heroes Day.
He said that if Cato is declared a national hero, it would pave the way for the NDP, if returned to office, to declare former Prime Minister Sir James Mitchell national hero and for the ULP to do the same with Gonsalves.
Thomas said that some people have argued that the country has not popularised its sole national hero, Paramount Chief Joseph Chatoyer, and that this should be done before more national heroes are named.
"I am all for that. But I also think that the time has come for us to name other people," he said.
He said that some people have suggested that former educator Norma Keizer and Yvonne Francis Gibson, an educator who became an MP, and others should be declared national heroes.
Thomas said he disagreed but would support for them a national award not at the level of national hero.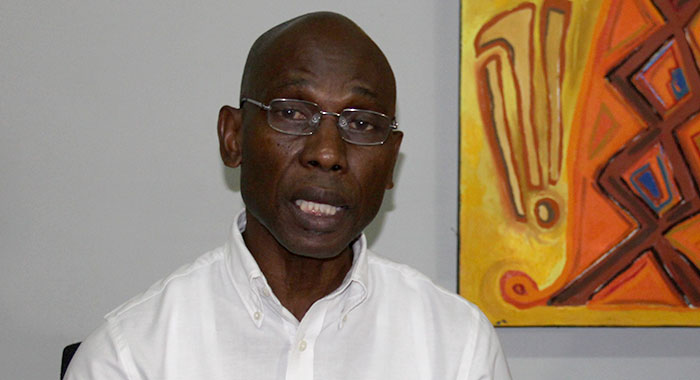 Thomas said McIntosh should be a national hero because of the effort that he put in from the 1930s to 1950s before he was eclipsed by Joshua, George Charles and others.
"He was in the Legislative Assembly. He did a lot of work," Thomas said.
He said that while no one speaks about Sheriff Lewis anymore he should be named a national hero "for his bravery, for his commitment, for his decisions to stand up on behalf of ordinary people".
Thomas said that in the 1935 rebellion of the ordinary masses in SVG, Sheriff Lewis, along with Bertha Mutt and others "stood up forcefully and decided that enough was enough".
He said that the legislative chamber, which was essentially a colonial, upper middle class, white structure, had passed a tax on kerosene, matches and other basic items.
"And the ordinary people … they thought that that was oppressive. They thought enough was enough. And they rose up in righteous indignation and they rebelled against what was happening, went into the courtyard, demanded to see the governor and so on and so forth."
He said the uprising was spontaneous but had a level of organisation about it and spread to Campden Park and Byera Hill, where it was sustained for some time.
Thomas said that Sheriff Lewis, McIntosh and others were charged as the instigator.
"Macintosh was not an organiser. In fact, Macintosh condemned the protests and the demonstration. But the British could not believe that ordinary people could have organised in the way in which they organised."
Thomas said he knows that local historian Adrian Fraser does not think that Sheriff Lewis rises to the level of national hero. "But I definitely think that he's there. He's way above some of the others who may eventually be named."
In making the case for Joshua, Thomas said he emerged in 1951, with the Eight Army of liberation then formed the People's Political Party in 1954.
"And the good thing about Joshua is that Joshua organised a trade union – [United Workers Peasants and Ratepayers Union]. He stormed across the country and really, really did a lot of good work," Thomas said, adding that back then, St. Vincent was "a number of plantations, but was like, essentially a big plantation where ordinary African people like me and you were not recognized in any way".
He said that Joshua went with "his cadres, with his soldiers with his members, and really instilled a sense of somebodyness …, telling people, you are somebody, you should be respected. Nobody is better than you.
"You hear PM Gonsalves talking now about we're not better than anybody and nobody is better than us. Those were Joshua's [words] from 50 years, 60 years, 70 years ago."
Thomas, however, said that when Joshua became chief minister and later on in his life "he kind of shifted away under pressure from the colonial administration in England, under the pressure from the ruling class, the moneyed class … from that strong working-class route that he had in early time but he should definitely be made a national hero".
Meanwhile, Thomas said it was attorney Theo Browne, father of former minister of health, Luke Browne, and later Luke himself, who sold him on the idea that JP Eustace should be declared a national hero.
Thomas said that in the 1920s, Eustace built secondary schools, giving ordinary people a chance at a secondary education.
He noted that the British built only two schools in 200 years and that it was not until the Unity Labour Party came to office in 2005 that there was universal access to secondary education.
"But JP Eustace, from very, very early, as I said, for over 100 years, was interested in in the education of ordinary people and did really, really good work," Thomas said, adding that many outstanding Vincentians graduated from Emmanuel High School, now the JP Eustace Memorial Secondary School.
Editor's note: This article was updated to correct Thomas' position on the committee. He was a member and not the head as initially reported.