A public servant assigned to the Milton Cato Memorial Hospital (MCMH) whose parents have both suffered strokes says a doctor told him that he should only have come to the emergency room if his blood pressure was still elevated after praying twice.
Elroy Boucher, who is also president of the Public Service Union, said the doctor, employed at the hospital, told him this after he failed to receive medical attention, having been told that the doctor was sleeping, when he rushed to the emergency room last Thursday, June 8.
"… as a staff member, you may have certain expectations to have been treated differently," Boucher said on Boom FM, on Tuesday.
Boucher, who is employed at the maintenance department of the hospital, said he woke up at 2:30 a.m. on Thursday "with my head pounding" and "a loud ringing noise in my ears".
He said that from his experience, he immediately decided to check his blood pressure.
"And when I saw the numbers, they actually scared me. I did that and immediately, I said, 'No, I have to go to the casualty.' I really was very, very concerned."
Boucher said that his father died of a stroke and his mother had a stroke about two months ago, but is recovering quite well.
"So, you are mindful of all of these things. And so, when certain things are happening that would not normally happen, it comes as if your life is flashing before your eyes."
He noted that at that time of the morning, no private healthcare facility is open and one has no choice but to go to the Accident and Emergency Department of MCMH.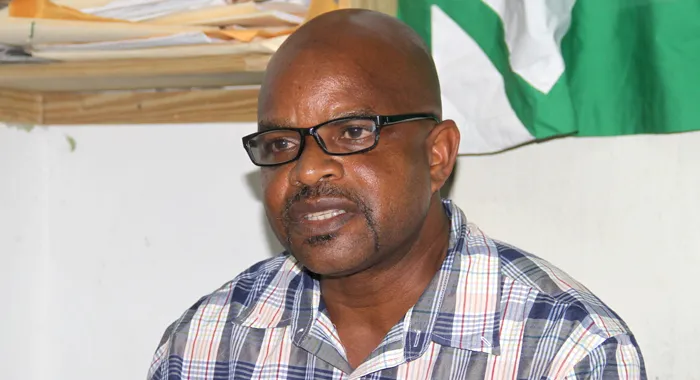 He said he arrived at the hospital at 3 a.m. and the nurse was very helpful.
"In fact, the place was rather quiet. There was no one in the waiting area," Boucher said, adding that he met a nurse who was also seeing medical attention.
"… and it seemed as if she had been there for quite a while too and facing the same problem with lack of attention. But the place was quiet."
He said that the nurse who was on duty took his information and checked his vitals and told him that the doctor was "sleeping, resting".
Boucher said he decided to wait and see what was happening.
"At about 4, 4:30, I went to the desk. And I said to the nurse, 'This type of service, it's not good. It leaves much to be desired on the Vincentian public, which I am a part of…
"'You're not treating me like staff now, you're treating me like any other Vincentian who comes to seek a service. This is no way for the Vincentian public to be treated. This really is unacceptable."
He said he decided to leave but before doing so, used the equipment, with which he is familiar, to check his blood pressure, which had fallen slightly.
"I left, went through the door and the nurse came running behind me and she said, before you go, let me do an EKG on you'," Boucher said, referring to a test that records the electrical signal from the heart to check for different heart conditions.
"So, I said, 'Well, any tests that you're asked to do, you shouldn't hesitate in doing it because it's only for your benefit. You don't know what you might discover.'"
Boucher said the nurse said she noticed an abnormality in the EKG and said she was going to take the EKG to the doctor for her to look at.
"Around five o'clock, the doctor came out and she went in that cubicle where the nurses are and said, 'Oh, you're the one who was complaining or making noise.'"
Boucher said he told the doctor he was not really making noise but was expressing his dissatisfaction with the service.
"And then she said, 'Well, when you wake up in the morning and you have an elevated blood pressure, what you should have done is to say your prayers and go back to sleep. And if you wake up again, and it is still high, then you say your prayers again and go back to sleep. And if the third time you wake up and it's still high, then you could come to the casualty.'
"I was stunned; really stunned. I really didn't even know what to say because I've never heard a doctor behaving in this particular manner. So, I said she must be joking. That's what I'm telling myself. She must be joking. So, I was not even sure how to respond.
"So, I said, 'Doctor, fine. There is the EKG. Could you please tell me if there is an issue with it?' And she refused to answer. She ignored me for the remaining of the morning."
Sick leave request ignored
He said he then told the doctor that he was expected to return to work at 8 and asked whether she would give him "sick leave or something" because he had had a very tiring morning.
"And one of the things is if you don't get a rest, your pressure normally will be elevated again. It's gonna affect your pressure. And she said absolutely nothing to me."
He said he asked the nurse for a copy of the EKG because he had planned to take it to the Kingstown Clinic at 8 a.m. and ask the doctor to analyse it from him.
Boucher said the nurse told him that he would have to go to the steward's office and pay for it.
He, however, said that the nurse relented and allowed him to take a photograph of it, which he sent to a UK-based Vincentian doctor, who responded in five minutes, telling him that it looked normal.
"That brought some relief to me. So, after he told me that, I said, 'You know what? I'm out of here.' And I left."
He said the overseas doctor also gave him some medical advice.
"So, I went home and took some pills and that sort of stuff and was able to get my pressure under control," Boucher said.
He said he made a post on Facebook about his experience and when he went to work, some senior nurses were chuckling.
"And I asked them why they were chuckling. They were able to call the name of the doctor and I did not even tell them. So, I said, 'If everybody knows this is happening, why is no one doing anything about it?'"
Why only 1 doctor at A&E?
Bocuher also questioned why there is only one doctor at Accident and Emergency?
"And I've heard this cry from so many people before. So many scary stories of people and their experiences going down there and staying 12 plus hours … to go to [private healthcare facilities]."
Boucher said having one doctor at A&E "has been a chronic problem" that he had thought had been fixed.
"… I wasn't even thinking of the fact that well the doctor is the issue. I was more looking at why can't we fix this problem so that we have more than one doctor at A&E so in the event that the place is crowded, in the event that you are overwhelmed, you need somebody else."
Boucher said he was grateful that nothing serious happened to him, noting that some people just collapse.
"… I was so scared and concerned. That is why I had to leave my bed to come there at that hour," he said, adding that there was no empathy for him as a patient.
He said that he got the impression that when the nurse went to get the doctor to look at the EKG, the doctor felt as if she had been disturbed.
"That's my take on it why she came out in that particular mood"
He said some people only go to the hospital because they cannot afford private healthcare.
"And it is a good service that the government has," Boucher said, adding, "… it is public servants who have to provide this particular service. The policymakers put things in place for public servants to provide the service.
"So, when it breaks down, oftentimes we blame the politicians, but when it breaks down, it doesn't necessarily break down from the politician side or from the policymaker. It breaks down from the very public servants who are entrusted with the responsibility to provide these particular services," he said.