Veronique Thomas, who represented Sandy Bay emerged victorious in the Miss Windward Pageant, on Friday.
On her way to the top spot, Thomas, who was sponsored by House of Ellis, was best in swimwear and the evening wear categories.
Beyoncé Quashie, who represented Georgetown and was sponsored by Foreign Base Entertainment, was first runner-up; she also secured the top spot in the interview category.
Miss Sans Souci, Janeisha Cupid, sponsored by Sea View Garden Beach Club and Resort, captured the second runner-up position and the best talent award.
In the non-judged categories, Zada Barker, Miss Orange Hill, sponsored by Vincy Print Plus, was most photogenic and most community spirited.
Quashie was voted miss congeniality by her peers. The People's Choice Award went to Veronique Thomas, Miss Sandy Bay.
The other contestant in the pageant, Donniesa Yearwood, represented Calder and was sponsored by Woodzzy's Bar and Restaurant.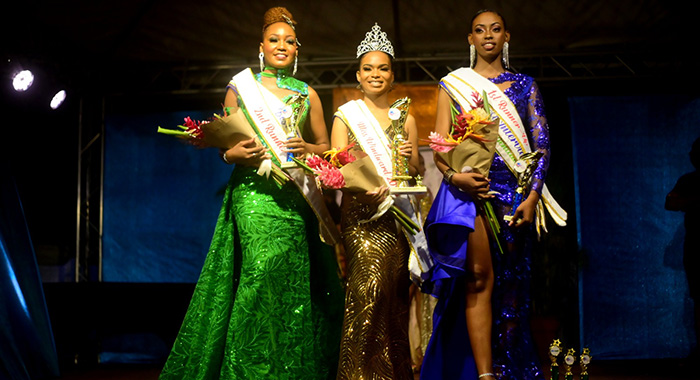 Results:
Miss Windward 2023: Veronique Thomas — Miss Sandy Bay
1st Runner-up: Beyoncé Quashie — Miss Georgetown
2nd Runner-up: Janeisha Cupid — Miss Sans Souci
Most Photogenic: Zada Barker — Miss Orange Hill
Miss Congeniality: Beyoncé Quashie –Miss Georgetown
Most Community Spirited: Zada Barker — Miss Orange Hill
People's Choice: Veronique Thomas — Miss Sandy Bay
Best in Swimwear: Veronique Thomas — Miss Sandy Bay
Best Talent: Janeisha Cupid — Miss Sans Souci
Best in Evening Wear: Veronique Thomas — Miss Sandy Bay
Best Interview: Beyoncé Quashie — Miss Georgetown