The biggest problem Vincymas faces is that the festival is underfunded, says Murray Bullock, chair of the National Lotteries Authority (NLA), which was established to support sports and culture.
"… in my humble opinion, the major problem facing Vincymas is that of finance. I believe it is underfunded and we are on a threshold where we can take Vincymas to higher heights, where we can make it greater, attract more visitors to come in and spend more money and, therefore, boost our economy," Bullock said on Monday at the prize-giving ceremony for Vincymas 2023.
Bullock suggested that if a SWOT analysis — a compilation of the festival's strengths, weaknesses, opportunities and threats — of Vincymas were done, "one would realise that its greatest threat is its success.
"Vincymas has been so well presented, so well planned and so well organised, that it has become a victim of its own success, because people expect more," Bullock said.
"And Mr. Prime Minister, you would not be foreign to what I am saying. When. You deliver big things, people expect more. And in every aspect of our lives, it is a reality," he said, referring to Prime Minister Ralph Gonsalves, who delivered the featured address at the event in Kingstown.
Bullock said carnival planners have to ensure that they are able to fund elements of the festival that do not return a profit.
"… for example, many of the components cannot generate the kind of revenue at the shows.
"If you were to present shows involving some of the components, then you will find that you would be losing money every time you produce a show. But one doesn't have to look at the commercial aspect of cultural matters."
Bullock said it is in the national interest to ensure the preservation of Vincentian culture, adding that where pan, mas and calypso are concerned, "we have to come up with very creative ways of providing adequate funding for CDC (Carnival Development Corporation) so that they can execute their programme effectively.
"Maybe some of the legislation just need a little tweaking to ensure that some of the funds generated, let us say from the private shows…" he said.
"Additionally, there is the alcohol tax and we have to tweak this measure a little to ensure that a little more funding goes to CDC so that it can execute its programme effectively."
Bullock, however, said these matters are "above my pay grade", adding that he was sure that "the adequate representation would be made to the relevant authority to ensure that something is done".
He said that when the Unity Labour Party administration came to office in March 2001, the National Lotteries Authority was generating EC$10 million in revenue and made an EC$75,000 contribution to CDC.
"Today, this contribution of $700,000 to CDC," said Bullock who told the ceremony that the NLA is expecting revenue of EC$100 million this year.
He noted that the EC$700,000 that NLA gives to CDC is in addition to in-kind contributions.
"… like the offices at Victoria Park, they pay no electricity, they do not pay for the repairs to the park. So, when you add it up, it will amount to almost $3 million."
Bullock thanked the prime minister and his administration, saying that the NLA's contribution to Vincymas is the government's contribution.
"… the National Lottery cannot make a contribution unless it is approved by the prime minister and his administration. So, it all goes into the mix," Bullock said.
"So, we can say, ok, you are trying to lobby for a little more contribution or a little more subvention from Central government but always bear in mind that the National Lotteries contribution is a contribution from the government."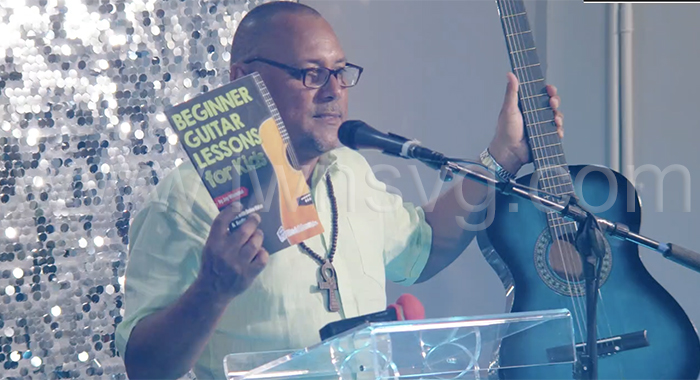 Speaking at the same event, Minister of Culture Carlos James said ticket sales for private events during Vincymas 2023 generated EC$4 million in sales and $640,000 in revenue for the government.
And, Ricardo Adams, chair of the CDC said his corporation was elated to be able to pay out prize money so early.
Winners in the various categories of Vincymas 2022 had to wait seven months to collect their prizes at a ceremony held on Jan. 7.
This year, a number of the bigger names in soca stayed away from the Soca Monarch competition after the CDC failed to meet their demands for larger prize monies.
The 2022 prize-giving ceremony was held in January after soca artiste Magikal spoke openly on social media about the non-payment of winnings.
Adams said CDC had a difficult year last year and he thanked NLA for enabling the CDC to host the event for this year's winners to collect their prizes.
He said a lot of the winners will be able to use their prizes to send their children back to school.
He said the CDC was handing out EC$692,000 in prizes.
Adams further said that each of the schools that placed in the top three of the singing competitions will be given a guitar and a beginner's guide to the instrument.
Further, the CDC is this year providing each of the winners in the primary school calypso, secondary school calypso, junior soca and junior king and queen of the bands with EC$250, which the CDC anticipates will be used toward offsetting educational expenses.
"And we do this because we recognise that a lot of us are not going to be on this carnival stage for much longer and what we need to of is continue to encourage our youth and encourage our school systems to be involved in the carnival product because that is where the investment in our future always is," Adams said.