Silver Rocked for contestant "Lucky #7" in the Miss SVG 2023 pageant, Simesha Millington — Miss Coreas Ace Hardware; as she completed her community service project, "Silver Rocks".
Millington who hails from Chauncey, organised a week of activities from Aug. 28 to Sept. 3 that focused on the "silver economy".
The silver economy emphasises a senior target market of persons that are 50 years old and over.
An opening ceremony "Uncovering Rocks" was held on Aug. 28 at the Questelles Police Station, during which presentations were made by Joel Providence, Joanna Jack, Commissioner of Police Colin John, Ruthie Reddock and Laverne Cato.
On Aug. 29, Millington "Discovered Rocks" by participating in community field visits with her sponsors. This was done to ascertain disadvantaged persons within the community and pinpoint where assistance can be granted.
"Training rocked" on Aug. 30 was a fitness session held at Coreas ACE Hardware in Pembroke. This activity was spearheaded by the contestant alongside known fitness instructor D's Fitness.
It highlighted the importance of exercise for the "silvers" in the community. Persons were encouraged to participate in exercise programmes and to continue to be active members within the society.
On Aug. 31, a health fair was held at the Clare Valley Clinic. It was dubbed "Testing Rocks" and included blood pressure and blood sugar checks. Health presentations were made and interactive sessions with the "silvers" was held.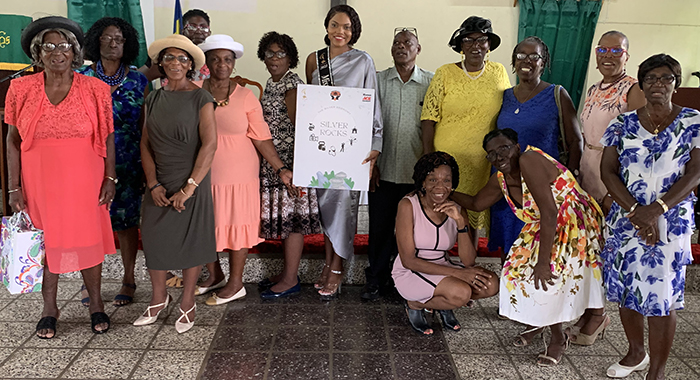 On Sept. 1, Millington brought entertainment to her silvers of Chauncey and the surrounding area by hosting "Rock-your-key" a karaoke competition and games night at the Dzia Club in Questelles.
On Sept. 2, she ventured on the waters as she hosted a kayaking session — "Floating Rocks" — with a number of "silvers".
This part of her activity showcased her tour guiding skills and gave persons a new experience. She also encouraged them to take every opportunity to be one with their surroundings.
On Sept. 3, the silvers attended the Chauncey Methodist Church to climax the week of activities. "Uplifting Rocks" gave Millington a chance to recognise silvers at church.
In addition, she visited shut-ins and made donations to persons within the community in the form of gift bags and walking sticks.
"Miss Millington does not plan on stopping when it comes to reaching out to the silvers of her community. She promises to continue donating items to the silvers that are in need. A bus tour and other necessary events would be organised in the near future," a press release said.
"Miss Millington would like to encourage all to take care of the silvers in our community. We often forget and take for granted these stalwarts who may have played or continue to be a significant role in our community. In addition, we need to pay attention and invest our time by giving back, visiting the shut-ins or even preparing a simple meal for someone in need.
Always remember, 'no man should be left behind or forgotten'," she said.
The Miss SVG Community Service Project is sponsored by GECCU.