The Caribbean Cetacean Society (CCS) is hailing the success of its sea camp, an educational event aimed at connecting 100 children to the wonders of the ocean while imparting crucial lessons in marine conservation.
The sea camp, which was held in the pristine surroundings of St. Vincent and the Grenadines, aligned perfectly with the society's mission to cultivate a new generation dedicated to safeguarding our oceans for a sustainable future and developing a respectful blue economy, a press release said.
This is the second year CCS is running the sea camp project.
St. Vincent and the Grenadines, with its breathtaking marine ecosystem, provided the ideal backdrop for the sea camp.
The 10-day event in Fancy, Barrouallie and Union Island brought together enthusiastic young participants, Caribbean marine experts, and educators to foster a deep appreciation for the ocean's beauty and importance, inspiring a sense of responsibility for its preservation.
The objectives of the Sea Camp were:
Connect the youth to the ocean. Through hands-on activities, snorkeling expeditions, and interactive workshops, Sea Camp participants had the unique opportunity to immerse themselves in the marine environment.
This direct engagement allowed them to experience firsthand the importance of our ocean and their intrinsic link to all life on Earth.
Educate and advocate for conservation: Expert marine biologists and conservationists provided insightful lectures and interactive sessions, enlightening the campers about the urgent need for marine conservation.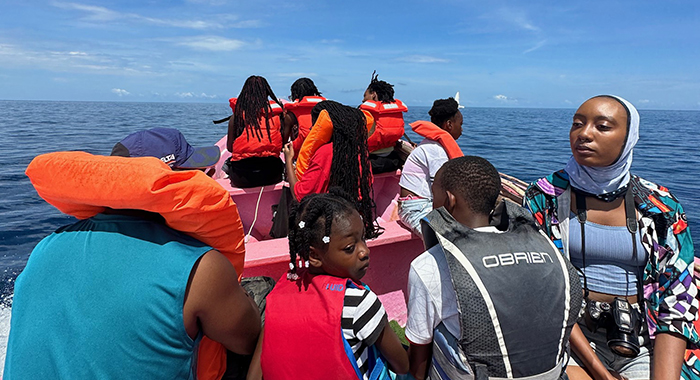 Participants learned about the delicate balance of marine ecosystems and the impacts of pollution and overfishing of our ocean as well as the crucial role of preserving whales and dolphins.
inspire future stewards: The sea camp aimed to nurture a new generation of ocean stewards who are equipped with the knowledge and passion to actively contribute to marine conservation efforts. By empowering these young minds, CCS strives to create a brighter future for our ocean.
"The Caribbean Cetacean Society firmly believes that connecting our youth to the ocean and educating them about marine conservation is a vital step towards a sustainable future," Bernus Jeffrey, director of CCS said.
"Our Sea Camp in St. Vincent and the Grenadines was a tremendous success, and we are proud to witness the enthusiasm and commitment of the next generation to protect our ocean," Raven Hoflund, regional coordinator of CCS and director of Ripples to Waves local NGO, commented.
The sea camps were held with the support of SVG Environmental Fund, Lightkeepers Foundation, The Animal Welfare Institute, the Tobago Cays Marine Park, the Fisheries Department, Ocean Spirits, volunteers, and the Vincentian community.
The Caribbean Cetacean Society said it remains dedicated to its mission of promoting marine conservation, research, cooperation and education.
"The success of the Sea Camp in St. Vincent and the Grenadines marks a significant milestone in achieving this goal," a press release said.