A taxi belonging to a Cuban resident of Georgetown was set on fire in yet another attack on nationals of the Spanish-speaking country in the east coast town.
The owners of the taxi declined to comment on the incident when iWitness News contacted them on Sunday, saying that the matter was already in the hands of the police.
However, iWitness News was reliably informed that the vehicle, a grey Noah, registration number HB623, was set ablaze in Grand Sable sometime between 9:30 p.m. on Friday and 2:30 a.m. Saturday.
The vehicle was extensively damaged.
The fire was the third attack on the person or property of Cuban professionals in the country since June.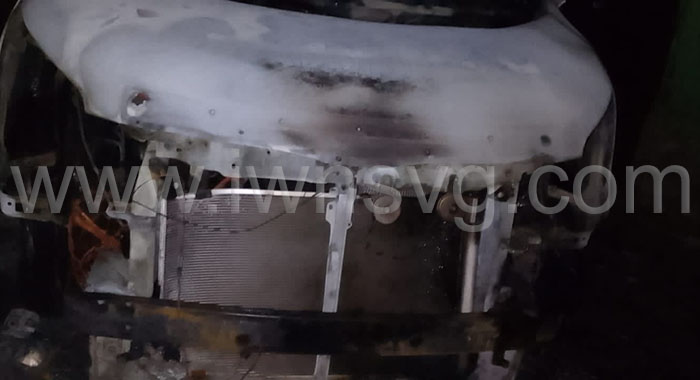 On the night of June 30, Cuban physician Dr. Alfredo Batista Salgado was left in intensive care after being slashed in the abdomen as he was on his way to his Mc Kies Hill home after the Calypso Semi-finals show in Kingstown.
An unknown assailant cut Batista across the abdomen, resulting in his intestines being exposed and hospitalisation in the Intensive Care Unit.
Then, on July 11 Daima Ves Aeosta, a 39-year-old medical engineer of Cuba, residing at Georgetown, was chopped on the hands by an unidentified assailant about 10:20 p.m.
Also, Janet Gameo Fableone, a 46-year-old x-ray technician, also of Cuba and residing at Georgetown, was struck with a stone to the nose, resulting in injury, also around 10:20 p.m.
Police have since charged Jace Baptiste, 19, of Chilli Village, Georgetown, in connection with the July 11 incidents.
The Cubans were members of the medical brigade dispatched by Havana to provide specialist services within the public health system in St. Vincent and the Grenadines.
After the July 11 incident, Prime Minister Ralph Gonsalves, who is also Minister of National Security, said his government would provide more security for Cuban medical professionals in St. Vincent and the Grenadines.
In subsequent comments, Gonsalves suggested that the attacks on the Cuban were part of activities by "foreign operatives" to destabilise SVG politically and unseat his government, which has been in office since March 2001.