Tenants at the Shops at Glen for recipients of grants under the government's Promoting Youth Micro Enterprises (PRYME) will pay just EC$5 a month in rent.
"… $5 a month. For $60, the shop is yours for the year," Camillo Gonsalves, MP for East St. George, where Glen is located, said at the opening of the shops on Monday.  
"We are providing these locations at this low cost in this wonderful location because we want you to succeed. But we also want you to stand as an example to other young business people that you, too, can try and succeed," said Gonsalves, who is also Minister of Finance.
The shops were built at a cost of "just under half a million dollars," Gonsalves said.
"And we're making back the money $60 a year. So, you know it aint to make money. We built these for half a million dollars, and we're giving it to the people of Glen almost free."
He said the government will make the area "something that we are all proud of, and something that everyone else envy us for. And I can't wait for this vision to be completed.
The finance minister said that there are very few requirements for tenants.
"The requirements are these: if you say you're coming here to do a barber shop, do a barber shop, don't turn it into a rum shop. If you're coming here, you can't sell no illicit things here.
"If you're coming here, and you lock up your shop for a month and gone way and the shop is just sitting there derelict, then you lose your shop. Run your business, strive, work with us. And we will work with you, make this thing something for us all to be proud of."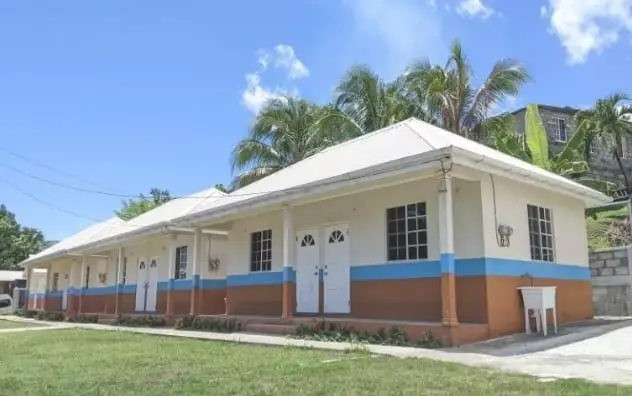 The MP reminded residents of what the area was like before the shops were built.
"They called it a laundry. There was a bathroom to the back that didn't work; didn't function. There was a structure here. The wood eat way, it was rotting out. People used to lime there. And in between, there wasn't really anything," the minister said.
"And we looked at that location and said what better spot as you're entering or leaving Glen to put the talent and the creativity of Glen on display than in the thing that used to be called laundry but now will be called a PRYME Empowerment Zone to empower the young people of this community."
He said the only thing of note that used to be on the site was a temporary police station.
"So, the identification in Glen, when you're telling somebody where to go, 'go by the police station'; 'turn by the police station'; 'stop by the police station'.
"No! 'Go by the location where the young people are striving and working and following their dreams'; 'go by the shops in Glen and watch young people go and do great things'. That's what we want the landmark to be in Glen going forward," Gonsalves said.
Speaking at the ceremony, project architect Dimitri Samuel said that as a state employee he gets to work on a lot of projects but rarely in the community in which he lives.
He explained that the Shops at Glen comprises three commercial buildings, accompanied by a restroom facility.
Each commercial structure is 21 feet wide and 15 feet in depth and features two retail units each. Each retail unit has an internal dimension of 10 feet square.
The retail spaces were thoughtfully designed with two windows for proper ventilation and were designed to be flexible for whatever the tenant decides to use the space for, Samuel said.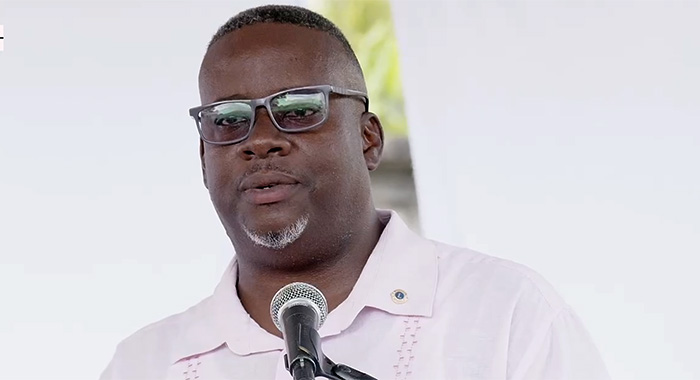 He said there are a variety of shops, including barbershops, salons and IT, adding that the main objective behind the conception of the marketplace extends beyond commercial endeavours.
"It seeks to create a secure environment not only to facilitate economic activities but for the local community, but also offer a welcomed destination for residents, and visitors alike," the architect said.
"It is a multi-layered capacity. The market not only serves as a venue for commerce but a place where individuals can have activities and even an opening ceremony. The incorporation of the green space offers avenues for social activities to create a community hub for the people of Glen, not just shops."
Samuels said phase two of the project envisions an extension to the Shops at Glen.
"We want to create new vending kiosks — 10 kiosks 10 feet by 10 feet," he said, adding that they will be built adjacent to the Shops at Glen.
Samuel explained that the front of the shop is a retractable aluminium door, which allows the shop to open completely to the public and there are also on both sides fixed-louvre windows for security.
The shops are also designed to be flexible so that tenants can be used for food, boutiques, barber shops.
"Whatever the people envision, we can accommodate in this facility," Samuel said, noting that there is adequate space for parking and an environment in front of each shop to put picnic chairs and for flexible seating.
Samuel also showed on the display screens an artist impression of what the areas would look like in the future.