Opposition Leader Godwin Friday says he expects that St. Vincent and the Grenadine (SVG) will be represented at the highest level at the CARICOM-Canada Summit in Ottawa this week.
Friday told Vincentians in Toronto that anything else would be "an insult" to the Vincentian diaspora and a "dereliction of duty".
The opposition leader's comment Sunday night might have been a jab at Prime Minister Ralph Gonsalves who has not visited Canada for years, after a Canadian lawyer made an allegation against him in a media interview.
Friday, who lived and worked in Canada for years before returning to SVG two decades ago and holds Canadian citizenship, said the summit is "a very, very important event.
"Because we have a special relationship with Canada going back many, many years," he told the "Hope For Home" town hall meeting organised by the Toronto arm of the New Democratic Party, of which he is president.
Friday's delegation including NDP Chairman and MP for West Kingstown, Daniel Cummings, Senator Shevern John and Lavern King, the party's PRO.
"And it's one that I believe we can cultivate, and certainly that I would, as prime minister, cultivate to seek to make a greater advantage to us," he told the gathering at the meeting where he gave his party's assessment of SVG and where it wants to take the country.
"So my understanding is that all the CARICOM leaders are invited and that all of them are going to attend. Well, all of them are expected to attend," Friday said, to some laughter.
"Let me just say this: as important as that summit is, if we do not have representation at the highest level, it is an insult to you, this community. And more than that, it is a dereliction of duty. Because the potential importance of that summit is too great to take lightly," he said.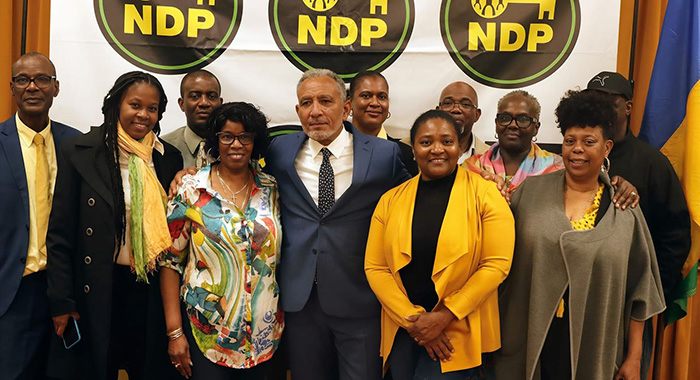 It is not clear whether Gonsalves would attend the summit, but a flyer circulating on social media has announced a meet and greet with Minister of Foreign Affairs, Keisal Peters in Ottawa on Friday, OCt. 20.
On Oct. 6, Prime Minister of Canada Justin Trudeau, announced that he will welcome leaders from CARICOM to Ottawa for the first Canada-CARICOM Summit on Canadian soil.
"I look forward to welcoming leaders from the Caribbean Community to Ottawa this month. Canada and the Caribbean Community have built an enduring partnership over the last 50 years, based on ties between our people and our shared commitment to democracy, the rule of law, and human rights. At this Summit and beyond, we will keep working together to take climate action, build strong economies, and keep people safe, now and into the future," Trudeau said.
Trudeau will co-chair the Oct. 17-19, summit alongside Prime Minister of Dominica, Roosevelt Skerrit, chair of CARICOM.
"As CARICOM celebrates its 50th anniversary this year, the Summit will highlight Canada's strong ties with the Caribbean and provide an opportunity for leaders to continue to strengthen cooperation and chart a better future for people in both regions," CARICOM said in a statement.
The summit will be held under the theme "Strategic Partners for a Resilient Future" and Trudeau and his CARICOM counterparts "will advance shared priorities, including building inclusive and sustainable economies, increasing trade and investment, and promoting multilateral collaboration.
"The leaders will also work to fight climate change and address its impacts in the Caribbean, including by exploring ways to improve access to financing for small island developing states in the Caribbean," CARICOM said.
During the summit, Trudeau will highlight the importance of reinforcing democratic values, promoting human rights and the rules-based international order, and strengthening coordination on regional security, including responding to the ongoing security, political, and humanitarian crises in Haiti.
The leaders will engage with Canadian business leaders and investors to further commercial opportunities in the region.
As co-Chair of the United Nations Sustainable Development Goals Advocates group, Trudeau will take the opportunity to advance the SDGs – the pathway for the world to build a more sustainable, peaceful, and prosperous future for everyone.
Canada has long-standing ties with many CARICOM countries on a wide range of shared priorities, including trade, security and defence, international assistance and governance.
This summit is expected to build on the work Canada is doing to strengthen ties with the region, including Trudeau's visit to The Bahamas earlier this year to participate in the 44th Conference of Heads of Government of CARICOM.
More than two million Canadians travel to CARICOM countries annually and over 10,000 students from CARICOM study in Canada every year.
In 2022, Canada's two-way merchandise trade with CARICOM countries reached $1.8 billion. In 2021, bilateral trade in services reached $3.9 billion.