Opposition spokesperson on national security St. Clair Leacock says that Vincentians are increasingly becoming numb to the killings in the country and the response of the authorities is not helping the situation.
He noted the shooting death of his constituent, Deshawn Slater, 26, of Green Hill, on Monday brought the homicide count in St. Vincent and the Grenadines this year to 44.
"… we literally have one death per week in St. Vincent and the Grenadines; 44, 45 is like one per week. We are like a one-a-day tablet now and by the end of the year, with 52 weeks in a year, we may likely reach 52," Leacock said on radio on Monday, during New Times, his party's daytime show on NICE Radio.
"So we have reason to be very, very scared about this matter," Leacock said on the programme, on which Opposition Leader Godwin Friday made his weekly appearance.
Friday said that on the issue of crime, "You don't need a part-time minister of national security.
"This is a serious, urgent problem. You need a full-time person who is focused on it, who is on the ground. Not ever so often when you touch down, one foot on the ground and the next one in the air and you are gone again.
"This is something that requires the attention of someone who is focused on the ground, who is dealing with this, who is showing up at the scenes where these terrible things happen to demonstrate that there is a commitment on the part of the government for dealing with them. As it is now, they have not done so," the opposition leader said.
Police said preliminary investigations revealed that on 6:20 a.m. on Monday, two unidentified masked gunmen accosted Slater, chased and shot him about his body in Paul Over.
"Slater reportedly ran over an embankment in McKies Hill, where he subsequently collapsed," police said.
Leacock said it is not secret in Slater's community that he had a narrow escape when gunmen went after him at his workplace about a month before his death.
The Central Kingstown MP said the nation "is getting more and more numb about murders.
"People are no longer surprised, upset, distressed, emotionally-moved. They are simply counting the numbers now and counting them in a way that, 'Well, once it is not a family of mine, then, in a sense, it is not really my problem.'"
He said that as Friday knows, because one of his cousins was murdered this year, "it is only a matter of time before this thing reach on our personal doorstep".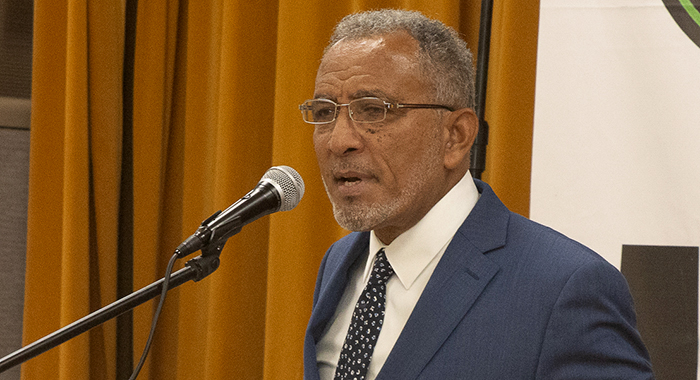 Friday noted that it also affected someone very close to the opposition New Democratic Party (NDP), of which he is leader.
The opposition leader was speaking about the shooting death of Charles Mc Intosh, 74, in Arnos Vale as he was walking home around 10:40 p.m. on Sept. 29.
Leacock said:
"But I want to alert the Vincentian public that this matter is getting so serious that it will affect us sooner rather than later in ways that we least expect. A number of these so-called perpetrators or witnesses of these crimes are ending up in the United Kingdom. People are literally travelling and flying for fear of their lives for one reason or another."
Leacock, who is an NDP vice-president, said he had been alerted that he may get a call out of England.
"And that is something I would have to discuss with you for guidance as to how we go forward," he told Friday, adding, "But we pay a lot, a lot of attention to this matter and I am imploring Vincentians to take note."
Leacock said Prime Minister Ralph Gonsalves, who is also minister of national security, seems to be paying passing attention to crime in the country.
"'It is a tiny majority.' I don't know if we are to interpret that to mean no need to bother, why worry. And he says that and he moves on."
Leacock said he had seen earlier on Monday a video of the Gonsalves leaving for Nigeria "where he would deliver yet another interaction, act on some stage or some platform.
"Because it would appear to me, certainly, that he is more interested now, in his going home years, in his personal international achievements."
Friday said that for Gonsalves, SVG is "just a platform; it is a stage to stand on."
Leacock added:
"And if we want to kill out ourselves here as we say in local language is our business. I don't think we can afford that. And, certainly, he has said nothing new in the microwave statement on Independence Day parade."
In his independence address to the nation, Gonsalves said that a programme dubbed "Independence from Fear", is to include several initiatives in fighting violent crimes such as a gun amnesty, immediately following the passage of legislation next month to increase penalties for possession of unlicensed firearms and ammunition.
"The details will be announced shortly. Bring in the illegal firearm or face intensified prosecution and much longer jail-time," Gonsalves said.
The prime minister further announced that acting Commissioner of Police Enville Williams had presented a strategic plan to him and within that framework there are particular pieces of crime-fighting legislation to be brought to Parliament.
Leacock said:
"Even the presentation of the fact they would grant an amnesty is something I addressed on behalf of the party a few weeks ago and also to use the legislation to make the punishment harsher."
He was referring to the proposal that he announced at an NDP press conference in July where he said an NDP administration would be willing to consider a gun amnesty, including paying people to hand in illegal weapons.
Leacock continued:
"But when he (Gonsalves) comes to the point where he says the new commissioner has forwarded his plans, well, I am in a bit of a bother about it but I give him the benefit of the doubt. But the last commissioner of police made it clear the prime minister often had information that he didn't have and sometimes, more information than he had. And certainly he insinuated that nobody could advise the prime minister."
Meanwhile, Friday noted that in February the government had announced that the police were going to put forward a crime-fighting plan but could not give all the details.
"And nothing was done so you are quite right to be sceptical and say let's wait and see but jeez, the longer we wait, it is the more people who are falling," the opposition leader said.
Leacock said that one would want to be optimistic because there are one or two individuals in the high command of the police force, including acting Assistant Commissioner of Police Trevor Bailey, who is known as a good crime fighter and has great community relationships.
"And one hopes he can build on that and to be a part of the team of police officers who would bring some relief to the Vincentian populace.
"But for now, it begins to appear to me that the only choice and chance for Vincentians enjoying greater public safety and safety in public spaces would be for there to be a change of government and the New Democratic Party coming into being and the sooner that is done, the better."
Leacock said that by Gonsalves' own statements and acknowledgements, the security of the citizens of any country is the first order of any prime minister.
He said Gonsalves cannot say that he has succeeded in this regard.
"And they are predominantly young people; they are his people," Leacock said, apparently referring to people who came of age under Gonsalves' Unity Labour Party administration, which came to office in March 2001.
Friday said that everything in a country depends on security, including production, tourism, development and agriculture.
"How you going have farming, for example, where people thieving all your crops and animals. Where is the farmer going to have incentive to go and produce? How are you going to have any nightlife when people are afraid to go out because they don't know when the next shooting is going to take place?" Friday said.
"How are you going to attract foreign direct investment into the country when you look at the citizens they can say this is one of the most violent countries in the Caribbean and one of the highest murder rates in the world. How does that help us? How does that help the citizens of St. Vincent and the Grenadines?" the opposition leader stated.