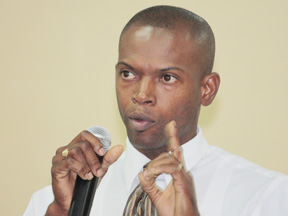 KINGSTOWN, St. Vincent, April 3, IWN – Building & Loan Association (BLA) shareholders said Tuesday they are concerned as the Financial Services Authority (FSA) moves to appoint a chief executive officer at the building society.
"How did the FSA come up with these specific guidelines for the CEO and to what extent are the shareholders of Building & Loan aware of it and how could we influence that process?" Cristo Primus told a meeting of fellow BLA shareholders.
Primus said he was not sure what the law says about the FSA, a state agency, appointing a CEO for the BLA.
"But I am very concerned about the extent to which the members of this association could influence the employment of that CEO, which comes right back to the strength of the management of the Building & Loan Association," he said.
Junior Bacchus, chair of a committee of BLA shareholders interfacing with the FSA, had earlier told the meeting that shareholders might want to ask about the FSA about appointment of a CEO next week.
The FSA is scheduled to meet with shareholders of the BLA on April 11 for the first time since it took over management and control of the BLA on Feb. 1.
Shareholders last month elected a committee to interface with the FSA and the two sides met on March 12.
The advertisement for the CEO was published last week.
Bacchus told shareholders that at the meeting next week they "may want to have some clarification … in respect to the CEO and maybe the nature of contract".
"Because, you never know. You may be tied into someone for an extended period and all that. And as shareholders, we should have some say in terms of the extent of that," Bacchus further said.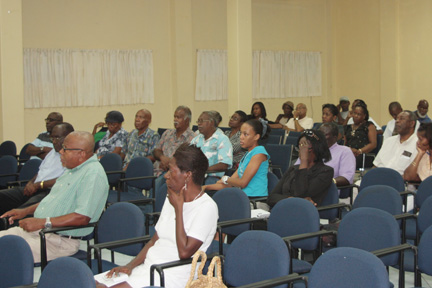 Sylvia Sutherland, another member of the committee off BLA shareholder, told Tuesday's meeting that shareholders can influence the appointment of the CEO by going to the meeting next week "and requesting that the FSA does not appoint somebody on a long-term contractual basis so as to lock the Association into a situation that may not be what you, as shareholders, want.
"Yes, the FSA is in charge now, and they can do it. So, just ask them whenever you appoint a manager [that it be] just an ordinary thing
The FSA took over management and control of the BLA after $9 million was withdrawn over a two-week period.
The run came on the heels of a letter by Luke Browne, an economist at the Ministry of Finance, which was overseeing the BLA.
The letter raised concerns about the management and financial health of the BLA.