KINGSTOWN, St. Vincent, May 16, IWN – Prime Minister Dr. Ralph Gonsalves says he would like to meet with his Trinidadian counterpart, Kamla Persad Bissessar, before May 28 to discuss issues relating to regional airline LIAT and the Port-of-Spain owned Caribbean Airlines (CAL).
LIAT shareholder governments have complained that the fuel subsidy Port-of-Spain gives to CAL contravenes the CARICOM Treaty and puts LIAT at an unfair disadvantage.
Speaking at a press conference on Tuesday, Gonsalves said: "I'd like to go to Trinidad sometime before the 28th of this month, if it is possible, with the chairman of the board of director, Dr. [Eric] Holder, with the chief executive officer of the airline, Mr. [Ian] Brunton, other staff members of the management and the minister of aviation from Barbados and the minister of aviation from Antigua and Barbuda to discuss a set of matters prior to the meeting with is taking place in St. Vincent and the Grenadines on the 27th and 29th of this month."
He said he had failed on Monday and Tuesday to reach Persad Bissessar by telephone at her office.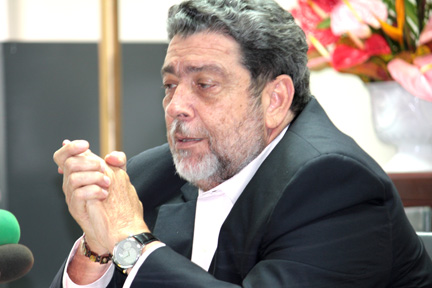 There will be a meeting of officials here on May 27 and, on May 29, a ministerial meeting of the Council for Trade of Economic Development with air transportation as a special subject.
Gonsalves will chair the May 29 talks, which will follow a meeting on May 28 in Trinidad of regional leaders with U.S. Vice-President, Joe Biden.
The Vincentian leader will be in Trinidad on May 25 and 26 to deliver the commencement address at the University of the Southern Caribbean.
"So I am really trying to see if I can get this going because there are several issues I will like to again air with the Prime Minister of Trinidad and Tobago on behalf of LIAT and within the context of regional air transportation," said Gonsalves, who last week attended a meeting of LIAT shareholder governments in Barbados.