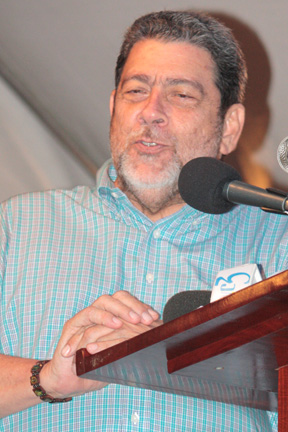 KINGSTOWN, St. Vincent, May 21, IWN — Vincentians have been told that "some good money [is] coming" in the wake of a visit to this country on Monday of a 11-member delegation from the ALBA bank, headed by the president of the Venezuela-based financial institution.
Prime Minister Dr. Ralph Gonsalves announced at the annual Fisherman's Day Rally on Monday that he held talks with the delegation earlier that day and that a team from Cuba also arrived in the country that same day.
"President [of Venezuela, Nicholas] Maduro sent them to see me, headed by the president o the ALBA Bank. And I want to say to you, some good money [is] coming. I [am] not talking about that tonight; only to tell you some money coming. You hear me?" he said.
He said the delegation will "do something" with us with Vincy Fresh, a local, state-owned agro-processing company.
"Some monies have been approved for us to get the laptops for the secondary schools.
I hope we can get them in September," he further said, as he urged the audience and radio audiences to "have faith".
"Not just theoretically. Faith is made complete through works and the works [are] happening. The just shall live by faith and belief. And the people of the righteous shall not beg their bread," he further said.
Gonsalves, who is also Minister of Finance, further announced that a delegation from Cuba, led by a government minister, arrived in this country Sunday night.
"President Raul Castro sent a minister with a number of other technical persons," he said, adding that the team on Monday was at the Argyle international airport construction site "reviewing things".
He said the technical personnel from Cuba will stay in St. Vincent and the Grenadines for about 10 days "to see how we need to do additional work and keep ourselves on track with respect to the conclusion of international airport."
The US$652 million international airport, the nation's first, is scheduled to be completed by year-end and begin operating next year.
"When the fishermen [are] working at sea, I am working on land to help to do my part. Each of us has his own part to do," said Gonsalves, noting that Monday was a public holiday.