"If the Port is saying that there was never a sickout, and therefore there was never a breach, … then what is the basis of the action?" — union leader Cools Vanloo.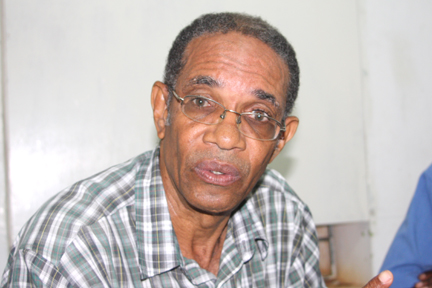 KINGSTOWN, St. Vincent, May 27, IWN – The trade union representing the Port Police says it will seek legal advice as the Government says the Police Force will take over security at the nation's ports.
Prime Minister Dr. Ralph Gonsalves announced his Government's decision to Parliament today — Monday.
Read: 84 jobs at risk as Gov't moves to disband Port Police
He further said that all Port Police officers will have an opportunity to apply to the Police Force.
"… clearly, if they are going to have a new employment relationship, all of them will have to be severed. And if they have to be severed, they have to be paid in accordance with the Protection of Employment Act," he said.
But Cools Vanloo, head of the Public Service Union (PSU), told I-Witness News today that the union will seek legal advice on the matter and other issues.
"We will draw this to the attention of the legal counsel," Vanloo told I-Witness News.
Vanloo said his union wants to see "whether the authority or the law is consistent with the position of the Prime Minister … and the powers granted to the Prime Minister under the law".
The decision announced in Parliament is the latest in the fallout after a reported sickout by Port Police that resulted in the Police Force providing security at the Port Authority last month.
But the PSU said there was no sick out or any other industrial action.
"They (Port Authority) did not tell us (PSU) that there was a disruption. And if you go back to the [news]papers, they did not admit that there was any such action," Vanloo told I-Witness News.
"… The union has no control over people getting sick. There were some allegations that the union did not inform them (Port Authority) of something or the other. I can't inform an employer that people are getting sick. How do I know that?
"… If the Port [Authority] is saying that there was never a sickout, and therefore there was never a breach, and they communicated to the press that there was no compromise in the security of the Port, then what is the basis of the action?" Vanloo said.
He said the Government has made a decision without involving the union.
"So, you are not going to deal with the union that the Trade Union Act says is not an illegal entity…?"Vanloo further said.
Vanloo further told I-Witness News that "a significant number" of the Port Police officers will not meet the requirements for entry into the police Force, either because they are too old or do not have the academic qualifications.
He said the Port Authority itself did not adhere to its own guidelines in terms of qualification for employment as a Port Police officer.