"But one thing is clear, nobody can stop a government from restructuring. And there will be a restructuring at the Port. No if, maybe, or but." — PM Gonsalves.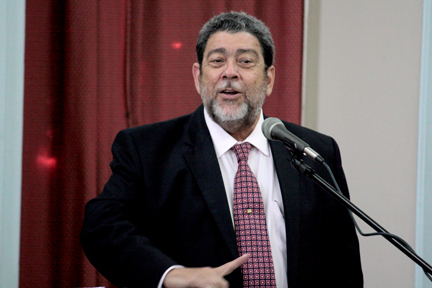 KINGSTOWN, St. Vincent, May 27, IWN – The nation's 84 Port Police officers are at risk of unemployment as the Government restructures security at ports.
The move comes after an alleged sickout last month that Prime Minister Dr. Ralph Gonsalves told Parliament today — Monday — exposed the country to potential negative repercussions under the International Ship and Port Facility Security (ISPS) Code.
The ISPS Code is a comprehensive set of measures to enhance the security of ships and port facilities, developed in response to the perceived threats to ships and port facilities in the wake of the 9/11 attacks in the United States.
The Port Authority has denied that Port Police officers went on sickout.
Further, the Public Service Union (PSU), which represents the workers, told I-Witness News that it did not institute any industrial action at the Port neither has the Port informed it of any industrial action there.
Last month, police officers were called in to provide security at Port Kingstown after several Port Police officers called in sick or presented sick notes.
The Port Police officers returned to work in the wake of the police substitution, Gonsalves said.
Gonsalves, who is also Minister of National Security, announced the restructuring even as he acknowledged the potential political fallout.
"But one thing is clear, nobody can stop a government from restructuring. And there will be a restructuring at the Port. No if, maybe, or but," he said during the debate on an amendment to the Protection of Employment Act.
"I am prepared to accept that the flexible system of the Port Police has not been a success…" he said.
He further said St. Vincent and the Grenadines will join other nations that have used regular police officers to secure their ports.
"I am taking a decision in the interest of the people," Gonsalves said in direct response to the suggestion by Central Kingstown representative, St. Clair Leacock, an opposition lawmaker, that the severed workers and their relatives will vote against the government.
Gonsalves said that the Port Authority has informed him that it only needs 55 to 60 Port Police officers.
"But, in order to help … people who don't necessarily have their CXCs and so on, to give them a job, you have 84 of them," he said.
He said that all Port Police officers will have an opportunity to apply to the police force.
"But, clearly, if they are going to have a new employment relationship, all of them will have to be severed. And if they have to be severed, they have to be paid in accordance with the protection of Employment Act," the Prime Minister said.
But Cools Vanloo, head of the PSU, told I-Witness News today that since new applicants to the Police Force must be younger than 35 years, "a significant number" of Port Police officer will not qualify.
Further, some of them will do not meet the academic benchmark, Vanloo said, adding that the Port Authority did not adhere to its own recruitment criteria.
But Gonsalves said that he is not tolerating ill discipline at the Port.
He further said persons would say he was a bad minister of national security and allowed the Port to be blacklisted.
"I will not allow that to happen," Gonsalves told lawmakers.
He said while he does not want to see anyone on the breadline, "… you must have an obligation to be disciplined with work.
"And the first opportunity that there is a problem, you don't create an industrial action, which is deleterious to the Port and to the country and to yourself."
Gonsalves further said he cannot allow importers and exporters and other Port users to have problems at the Port.
"I cannot allow all those things to be disrupted. I can't allow, because of confusion manufactured by some at the Port, to allow the cost of doing business in St. Vincent to go up so that poor people would have to pay more for goods," he said.
"And who want to take their finger, as the honourable member for Central Kingstown said, and put it elsewhere, well that is one thing I am not afraid of.
"Because I know the people of this country will see the sense of which I am talking and will say it's high time that we stop a lot of foolish ill discipline which goes on with some people … who want to use their own condition with political axes to grind to make ordinary workers be led astray. Well, let them find jobs for them," Gonsalves said.