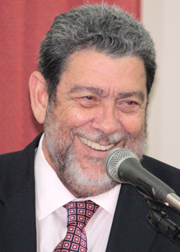 KINGSTOWN, St. Vincent, May 29, IWN – The government of St. Vincent and the Grenadines has contributed EC$141.5 million to the EC$652 million Argyle international airport up to the end of 2012.
The sum came in the form of property and other contributions, Prime Minister Dr. Ralph Gonsalves told Parliament on Monday.
Gonsalves, who is also Minister of Finance, told legislators that none of the money contributed by his Government was from revenue raised locally.
The Government has vested EC$385 million worth of land in the International Airport Development Company, the state firm responsible for building the EC$652 million project.
He further said that Iran has contributed EC$4.7.6 million and Trinidad and Tobago has contributed EC$26.8 million to the project.
Libya gave EC$2.68 million, and Venezuela contributed more than EC$20 million, in addition to three wind stations.
Cuba, which has contributed technical expertise, has given EC$7 million and Georgia just over EC$1 million. Taiwan, gave a grant of EC$52.2 million and a loan of US$10 million, while the CARICOM Development Fund contributed EC$9.6 million.
"Mr. Speaker, I appreciate that all of us are concerned about public debt," Gonsalves said.
"But isn't it amazing that where we are building the largest capital project since Conquest and Settlement that we have the smallest debt to GDP ratio in the OECS? That is what you call prudence and enterprise," he further said.
He said the nation has been able to hold it together while making phenomenal advances in education and health.
Gonsalves said one of the biggest challenges is capacity in the public and private sector, but added that the government is building that.
"I am delivering a quality airport for the people of St. Vincent and the Grenadines. And I am going to have some debt but the debt is soft loans. We have had concessionary funding and, Mr. Speaker, when we finish the airport, when we build the city at E.T. Joshua [Airport], when we move the Port; geothermal — those are the large strategic ticket items. I am not majoring in minor," he further said.