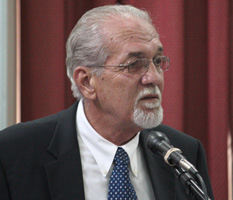 The EC$208 million (EC$1=US$0.37) that the Government will borrow will complete the EC$652 million Argyle international airport, Minister of Works, Sen. Julian Francis says.
"Mr Speaker, 208 million [dollars] came a little bit late but it is necessary to finish it," Francis told Parliament on Friday during debate on a bill to permit the Government to borrow for the airport.
The Government had to seek Parliament's permission to borrow EC$148.7 million of the EC$208 million contained in the bill.
"And I bring the argument again that I advanced last time and I advanced in 2006 that I am convinced, in my analysis, that the international airport and the project, that on completion of construction, the Arnos Vale crown jewel that we own, the Arnos Vale 62 acres [of land], will be valued more than whatever bridging and interim financing we have for the Argyle international airport," Francis said.
The Government plans to decommission the E.T. Joshua Airport and sell the lands as part of financing plan for the Argyle airport project.
Francis in 2006 said that because of the financing plan, the airport would be built "debt free".
"I put whatever professional life I have on that statement, Mr. Speaker. Because I have looked at the figures, I have done the evaluation …" he said of the analysis he presented on Friday.
He said that Prime Minister Dr. Ralph Gonsalves, who is also Minister of Finance, said the EC$204 million that the Government will borrow is US$75 million of the US$80 million needed to complete the airport.
"Don't forget that. He said he knows where he will find the next 5 million," Francis said of the Prime Minister.
"This money will bring the airport to completion. But it is not going to be completed within this financial year. It will become operational into another budgetary process, because the 2014 Budget is coming in," Francis further said.
Gonsalves told Parliament that the EC$148.7 million Parliament gave permission to borrow last week is all soft loans.
He said he will tell Parliament next year how much of the money was spent and how it was spent.