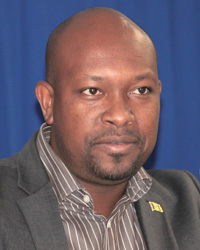 The Ministry of Agriculture is ensuring the quality of root crops in a test shipment on Tuesday that could see US$1.2 million in agricultural produce sold to New York annually.
Minister of Agriculture, Saboto Caesar, told a workshop of youths from 14 Caribbean nations here this week that a supermarket chain in New York is interested in buying the produce.
"We are still in conversation with the people because we have just began to speak with the chain in New York," Caesar later told I-Witness News.
"But actually, the first sample is going off on Tuesday of next week and the Ministry is working with exporters to ensure that the best quality goes off — so [that] we do not send off anything bad that kills the trade," he further said.
Caesar said the supermarket is interested in buying Vincentian sweet potatoes, tannia, eddoes, dasheen and ginger."
Top exporter
He further told the workshop that an analysis of exports in U.S. Dollars in 2010 found that SVG was the 23rd largest exporter of root crops in the world.
He said he wants this country to reach number 8, currently held by Jamaica.
"And the analysis also proves that per square mile and per capita, St. Vincent and the Grenadines is the largest exporter of root crops in the entire world," Caesar said.
"These are achievement that we have been able to obtain," he added, noting the contribution of local and regional farmers and agriculture organisation.