Sharnelle "Skarpyon" Williams should not have won the Calypso Monarch competition on Sunday — he was not initially among the finalists.
But the bard, who failed to convince judges during the June 21 Calypso Semis that he should go beyond that stage of the competition, defeated the other ten contenders for the crown.
He also unseated the defending monarch, Lornette "Fya Empress" Nedd-Reid, reversing the placements of the Ragga Soca Monarch competition the night before, when he placed second to the female bard.
(Read: Skarpyon's 'hammer' too light to break Fya Empress' 'conch')
The results Sunday night came as a shocker to many patrons and even to "De Stingerman" himself.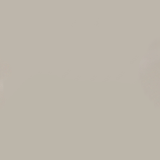 With Dennis Bowman ("Wey Ye Dey" and "Songs They Hear") and, two other strong contenders for the crown, tying for third position, some patrons assumed that there would not be a second place.
But the emcee announced Fya Empress ("My Gratitude" and "Just") as having placed second, leaving some patrons baffled as to who the winner could be.
But then the announcement came, Skarpyon had bagged it, winning himself the prize money and a Nissan Skyline, compliments Coreas Hazzells Inc.
Skarpyon secured a place in the final only after Ronald "Ron B" Browne, who was among the finalist initially announced, opted out for personal reasons.
Some patrons felt that the judges erred when they did not include among the finalists Skarpyon, who came from a dismal performance last year, when he went blank on stage ("buss"), to give an almost flawless rendition of "Until" during the Semis.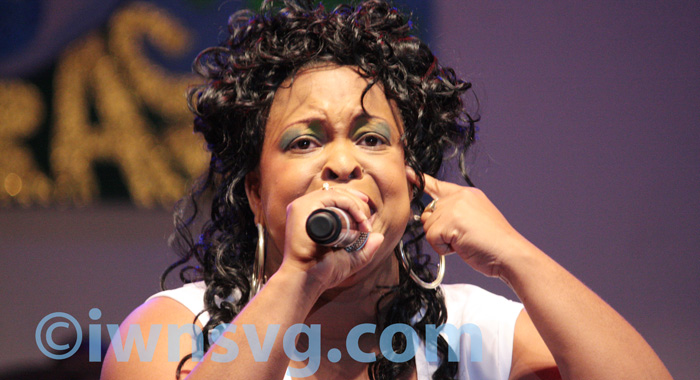 During the show Sunday, towards the end of one his appearances, there was a problem with the microphone. But it seemed that the artiste decided that since the performance was almost at an end that he should just let it go. He waited until the band had played the entire song then simply bowed and left the stage.
'surprised' win
Skarpyon told I-Witness News was "surprised" that he actually won the crown. "But at he same time, I am happy to know that the judges saw the quality work I put in and have given in terms of my performance," said the bard who placed second in 2011.
"I am happy knowing that the work that Skarpyon did was looked at and well scrutinised and seeing that what I am bringing to the table is music to a different level," he further said.
"Of course I am not going to be sounding like what they are accustomed to hear, … but in the range of calypso and taking it to another level," he further stated.
His comments were an apparent recognition of some criticism of his songs as stretching the definition of calypso.
In fact, Glen "Bump I" Richards, whose "Judge Bump I", an entertaining critique of the other calypsonians, made him a clear crowd favourite during the Semi and Finals, said in the song that Skarpyon must stop passing off ragga soca as calypso.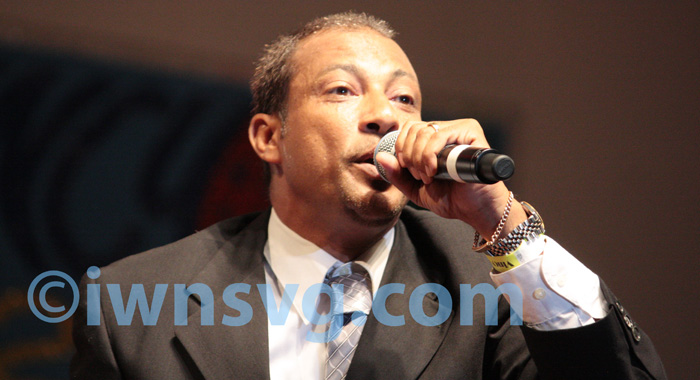 Skarpyon told I-Witness News he was surprised by the win because performer never knows what could happen with the judges.
"There may be something that they don't like or whatever…" he said.
He said that after he sang the more widely known "Until" in the first round of the competition, he asked his wife, Natara Williams, about his performance and she said it was "great".
"I asked her what the problems were and she didn't see any problem," the bard said during the interview as his wife stood by his side with their baby, Orien Williams, in her arms.
"The second round, I asked how I did. She said, 'Wow. You did great,'" the bard further recounted.
"When I am [on stage], I zoom into that character which is Skarpyon. So, when I am off the stage, I have to ask how I did," he said.
Skarpyon's second composition, "Song of Hope", came out of his disappointment after he "went blank on stage" and fumbled his lyrics ("buss") during the Semis last year.
"I realised I hurt a lot of my fans and I realised that I have a lot of fans, because people were crying and stuff like that …
"I went home, and the same night, was in the bathroom and the first line was like, 'Can disappointments make you stronger or will it supress that inner hunger that you had before you failed?' And I told my wife I had a song and I developed the idea and I developed the song and it came in perfectly.
"And this could be a living example for the youth out there," said the artiste who celebrates 25 years in the art form next year.
"Right now, my example is for the youths who are aspiring to be entertainers that sometimes, in your darkest hour, there is a little light that you just need to get to that place and not give up hope.
"And, also, the good book said that a little faith as a mustard see [can cause you to move mountains]. And these are the things I use to drive me, because, in life, everything cannot be good. This is how you are gonna grow as a person and later on, somewhere down the road, your story is going to pop up and be an inspiration to persons who are going through some rough times," he further said.
(Check our Facebook page for more photos from the show and other Carnival events).