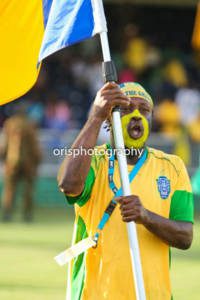 Martian "Marty" King, the man famed for donning the national colours, painting his face in the nation's blue, yellow and green, and carrying the largest National Flag at sporting an cultural events, died on Wednesday at the Milton Cato Memorial Hospital.
He was 42.
The father of four was diagnosed with colon cancer after he fell ill during Vincy Mas 2012.
His health continued to deteriorate being treated in Cuba earlier this year, where he was also diagnosed with kidney failure.
His lung later began to fail and he was admitted to hospital Monday night, where he died two days later.
King's absence at national events was noted, and as recently as during Vincy Mas 2013, some artistes and emcees sent love to him, noting that had it not been for his deteriorating health, he would have been at Victoria Park with his characteristic flag.
Earlier this year, two charity football matches where held in Kingstown to help raise money for the former food vendor.
He told I-Witness News of the "serious impact" impact that cancer had had on his life.
"I can't work. I can't take care of my family. … my two sons, are taking it on. I often feel a lot of pain and my [12-year-old] son, from the time I took ill, he just changed. He doesn't even want to go to school," King told I-Witness News in February.