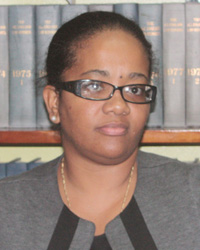 Opposition senator Vynnette Frederick is being prosecuted because her "lies caught up with her," Prime Minister Dr. Ralph Gonsalves says.
Gonsalves suggested on radio on Thursday that Frederick's attempt to bring down his government in the wake of the 2010 general elections has backfired.
He said he had no role to play in the decision by the Office of the Director of Public Prosecution (DPP) to bring nine charges against Frederick last week Thursday, hours after a magistrate threw out six charges against her.
"… the person who started the politics with this is Vynnette Frederick and she based it on untruths and on lies. And those lies caught up with her, and that is why she is in the situation where she finds herself — not of my making. I want to make that point. So when [Leader of the Opposition] Arnhim Eustace comes with his foolishness, it's something must be wrong with him," the Prime Minister further said.
He also distanced himself from the arrest of the senator on Thursday, when she was having lunch with her legal team and political colleagues.
'That is a matter within the domain of the Office of the Director of Public Prosecution and the police. And the Office of the Director of Public Prosecution is independent of any political interference," Gonsalves said of the arrest.
He further said that he was hosting Director General of the Food and Agricultural Organisation, José Graziano da Silva and other guests in Gorse on the eastern side of the country, and did not know of the arrest in Kingstown until someone telephoned from overseas and inquired about it.
Two-year saga
Gonsalves recounted the genesis of the saga, which began in 2011, when Frederick brought private criminal complaints against him and other ULP election candidates, concerning comments made in the lead up to the December 2010 general elections.
The Chief Magistrate, Sonia Young, dismissed the complaints as frivolous and vexatious and Frederick went to the High Court for leave to seek judicial review.
On the matter of the leave, which was heard before Justice Gertel Thom, a number of affidavits were submitted, and in one of them, Frederick made certain allegations of fact in relation to Gonsalves.
"And what in fact happened, she conflated, she conjoined [statements made from] two meetings, one at Park Hill and one at Belmont, and resulted in a fabrication, a distortion, a misleading set of statements," Gonsalves said.
Gonsalves said leave was granted because the lawyers for the Chief Magistrate didn't have the transcripts of his comments.
Recording of the comments where provided by Frank Da Silva, who, like Frederick, is a member of the New Democratic Party (NDP), and who has said he could not allow a travesty of justice to occur.
The lawyer for the Chief Magistrate appealed the decision of Justice Thom and the Court of Appeal agreed with them and overturned the leave granted to Frederick to proceed for judicial review.
"And in the judgement of the Chief Justice, the Chief Justice made comments adverse to the honesty and credibility of Frederick in relation to this matter," Gonsalves said.
"Frederick had also sworn an affidavit into the Court of Appeal that she had made an error and then we heard all the stories as to how this error came about," Gonsalves said.
He further spoke of the political implications of the case that Frederick brought against him.
"… if she was correct and I was found guilty, I would have had to resign my seat and therefore, … I wouldn't be Prime Minister, and I couldn't run for five years," Gonsalves said.
He said the Office of the DPP decided to file charges against Frederick arising from the statements in the affidavit, arguing that said statements amounted to perjury.
Cases thrown out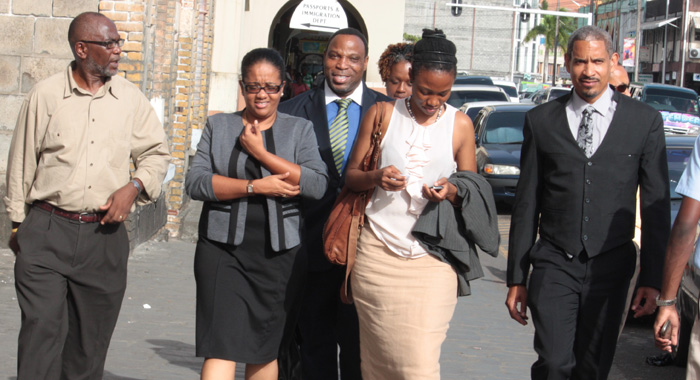 But the magistrate ruled last week, after a submission by Frederick's lawyers earlier this year, that there were insufficient particulars in the charges, and threw them out.
Gonsalves said the office of the DPP decided to prosecute Frederick again "for those very offences and also others arising from the same set of affidavits — which was open to them to have done in the first place in any event.
"But that's their judgement as to how they frame charges and how they prosecute. That doesn't involve me at all. I knew nothing of this; absolutely nothing," Gonsalves said.
"So this thing about human rights and Constitution are on trial and she is persecuted, what about swearing affidavits where the Court of Appeal itself said that what was in the affidavits was false — in order to bring down a duly elected government? Gonsalves said.
"Could anything be more serious than that? And the Office of the Director of Public Prosecution took a particular view of this in relation to the facts. They may be successful; they may not be successful in the criminal courts against her. But that has nothing to do with me," Gonsalves further said.
PM 'wronged'
"So when you [are] protesting, why are they protesting against me? I was going about my business; I won the election, you gone to bring case against me based on a falsehood. I am the one who is wronged," Gonsalves said in reference to planned Opposition protest next week.
(Read: Opposition to hold protest meetings over senator's arrest)
Gonsalves, a lawyer, said that while he would not express an opinion on any of the issues before the court, he decided to comment "and remind people of the facts because they have decided to make it political.
"There is nothing political in it rather than the original complaint that Frederick took to the Chief Magistrate against me," he said.
"… I don't understand how anyone in their right senses can have amnesia about a manner like this and politically putting it at my door," Gonsalves further said.
But while Gonsalves has denied having a hand in the charges being brought against Frederick, Sen. Julian Francis, general secretary of the ULP, has hinted at Government involvement.
"… let's assume for one minute that the NDP is in government and there is some charges brought against Senator Julian Francis in Parliament where I was charged for perjury and my defence lawyers got the magistrate to throw out the charges, you mean the NDP government was going to sit down and accept that as the final verdict and not pursue?" Francis said on his weekly radio programme Tuesday night.
(Read: Francis suggests ULP involvement in senator's arrest)