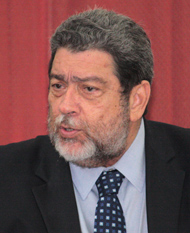 Prime Minister Dr. Ralph Gonsalves will not be in St. Vincent on July 26, the day when the Opposition plans to protest outside the Financial Complex, where his office is located.
The New Democratic Party on Tuesday announced protest meetings on Saturday and next week Tuesday, ahead of a protest march and picket in Kingstown next week Friday.
"If the object is to draw my attention to the protest, I want to advise them this morning. Have the protest on another day because I will be in Cuba and I don't think I will be back," Gonsalves said on radio on Thursday.
He said he would be in Cuba for the anniversary commemoration of the failed attack on the Moncada Barracks on 26 July 1953.
"I am going up on the 25th and I am not going to be here on the 26th, because it is on July 26th the main celebration is taking place. After the celebration, if I could get a flight on the night of the 26th, I will return home …" Gonsalves further said.
"I am saying to them, if you want me to see the protest, don't put it on that day, put it on a day when I would be here. I'm advising them. … Some people would say that I shouldn't tell them … but I am just telling them in advance…" he said of the Opposition.
The Opposition has planned the event in support of Sen. Vynnette Frederick, who was slapped with nine charges on Thursday, hours after a magistrate dismissed six charges against her.