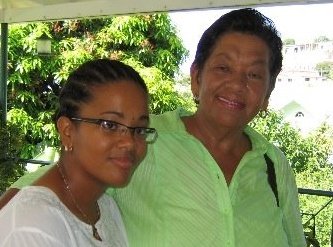 Mrs. Daphne Frederick, mother of embattled senator, Vynnette Frederick, says her daughter is a simple person who speaks out against wrongs and this will be her downfall.
Sen. Frederick is battling nine charges relating to making false declarations, swearing falsely, and fabricating evidence. She is scheduled to return to court on July 31.
"I often wonder why they fear and have a consuming hatred for my daughter," the mother said Saturday at a New Democratic Party protest rally in Georgetown in support of the senator.
"She is a simple person but outspoken on matters of wrong that happen in our community and in our country. So I say that will be her undoing. But one thing I am sure of and I say with great conviction tonight, I am very proud of Vynnette's achievement," she further said of her daughter who is also a lawyer.
"She is unbending and she is unbroken. I just love her as a mother," Mrs. Frederick further said.
Jealousy
The mother further said the senator's critics are jealous of her.
"All those seeking Vynnette's demise, behind the veil, they wish that their own little darling could have been like her, with her charisma and her mettle to speak out fearlessly on issues affecting our people.
"I have no doubt that they are bright and they have the ability. But, oh lord, when their parents are rearing them up with the great baggage of their wrongdoing to other people, they are between a rock and a hard place to go out in the public and open their mouth. But they are innocent.
"… But they know whoever they are, and I can tell them, whenever they have in their mind to destroy my child, they should look for pity on their own children," the mother said and thanked those who supported the senator's "cause"
She read from a prepared script, saying, "Because, so help me God, if I open my mouth without the guidelines here and 'tory jump out, they send nine police to arrest my young daughter, so I think they will send 20 to arrest this great grandmother here this evening".
She was referring to the July 11 arrest of the senator in Kingstown, hours after a court threw out six charges against her.
Those six charges and the nine before the court, stem from the contents of affidavits Frederick had submitted as a part of a private criminal complaint against Prime Minister Dr. Ralph Gonsalves following the December 2010 general elections.
Put through hell
"The powers that be have been putting my entire family and Vynnette through hell," Mrs. Frederick said and described the arrest as "disgraceful".
The arrest took place while the senator was having lunch with her lawyers and political colleagues at a restaurant in Kingstown.
"… what I can say boldly, had it not been for my abiding faith in the almighty God, I could not have been standing here tonight," Mrs Frederick said.
She further said she is a spiritual person, adding, "It bothers me, and I am baffled, sisters and brothers, for those persons who try to inflict pain and hurt on others and do not realise that they are doing it on themselves and their offspring".
She further said that all human beings are connected and feel each other's pain and are one with the Creator.
"And knowing this truth, I have turned each and everyone of them over to that mighty force and the universal mind and my daughter will be vindicated and justice will be served, because she is innocent.
"My dear people, it is a winding road but God is plotting the course. There may be perils and trials along the way, but we shall overcome," Mrs. Frederick further said.