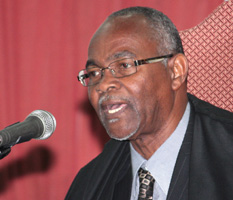 When police failed to act several years ago on complaints by Redemption Sharpes resident Daniel Cummings about noise from a church in his community, he took to the church with stones.
Cummings, now Member of Parliament for West Kingstown, has failed over the past few months to get House Speaker, Hendrick Alexander, to provide him with a chair his doctor recommended because of a back injury he said he sustained when opposition lawmakers were thrown out of Parliament in 2011.
Cummings, speaking at a New Democratic Party rally in Layou Tuesday night said the Speaker should not sleep well.
"There is a man they call the Speaker and he believe he is lord of all he surveys. And they think that they get away with all their wickedness. But I have news for them. Time longer than twine.
"Hendrick, Hendrick, Hendrick, watch out me brother. Yo' think yo' bad today but Daniel Cummings coming for yo'. He coming for yo. Mark me word.
"Yo' don't know the man yo' mashing up. Yo' don't know the man yo' interfere with. When yo' see a quiet and you feel nice and yo' don't want give me me chair, don't sleep well Hendrick, Hendrick boy. Yo ain't even see the smoke yet; water, fire, ashes, brimstone — everything coming for yo'. Mark my word! Mark my word," Cummings said.
Speaking at the same meeting, he said that two persons are coming for Central Leeward representative, Maxwell Charles.
His comments were an apparent reference to the two persons vying to represent the NDP in the constituency, which the party said could decide the winner of the next general elections, constitutionally due in 2015.