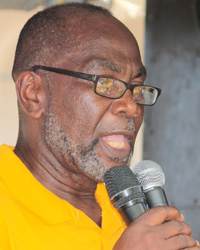 A New Democratic Party (NDP) government will re-rehire the Port Police officers who will be severed month end, St. Clair Leacock, an NDP vice-president says.
Leacock, Member of Parliament for Central Kingstown, laid out his party's position at a rally in Layou on Tuesday.
"If you are a port worker who is losing your job, make sure you give your name to us. Because, every single one of you who lose your job will get back yo' wuk under a New Democratic Party government," he said.
"So, if any policeman now is taking over the job of that port worker, you will go back into the main Force to make room for the people whose job yo' taking over right now, because all unfair games must play again," the opposition lawmaker further said.
Leacock said he would outline the position of the NDP during a meeting with the Commissioner of Police Wednesday.
"I going tell him that straight up to he face what we intend to do," he said.
The Government is disbanding the Port Police, which provided security for the nation's ports.
The move came after Port Police officers went on a one-day strike earlier this year, which the Government said compromised port security and could have led to international sanctions.