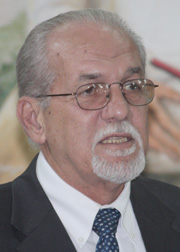 Two prominent citizens have criticised the St. Vincent Brewery Limited's Hai Life competition, which saw 11 persons holding on to a car for 24 hours this month, hoping to win the vehicle.
Former attorney general, Parnell R. Campbell, QC, last week Monday described the competition as "voluntary torture" while Sen. Julian Francis said on Tuesday that it was "torture" and "a barbaric act".
"And I hope it will not be repeated in this country," Francis said on his weekly radio programme on Tuesday.
Twenty persons won the chance to hold onto the car for a maximum of 24 hours.
At the end of the 24-hour period, persons who still had their hands on the car picked keys in a lucky draw to determine the winner.
After the 24 hours, 11 persons were still holding onto the car and Carlisle Burke of Chester Cottage picked the winning key.
Francis said he was not speaking in an official position from the government.
"The ministry which has responsibility for raffles and Hairoun can speak if they wish. But I am speaking here as Julian Francis," he said.
He noted that the participants were briefed on and agreed to the rules of the competition.
"It couldn't be solved with 20 persons holding on to a car, because you put an $80,000 machine under 20 hands, … the majority of persons not going to let go that car unless they fall down dead," he said.
An official from the Brewery told I-Witness News that the company paid EC$67,000 for the car, a Mazda RX-8.
"This is not for the persons who show they are the best. This is for advertisement for Hairoun. Hairoun occupied Heritage Square from Thursday night to Saturday afternoon to advertise their product, by having 20 persons holding on to a motorcar …" Francis said.
"I saw the participants on TV tonight. I saw their responses. They said it ain't cruel and what's not – [that] they were OK…
"All I am saying is that this is setting a bad precedent and I hope Hairoun, as a corporation, don't repeat it. There are different ways of giving benefits to your customers. But surely, this shouldn't be one.
"And, further, the way they went about doing it is another story. But that is a matter I would write on at the official level," Francis said.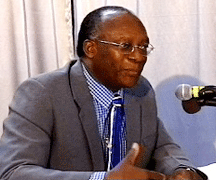 Meanwhile, Campbell, speaking on his television programme, said keeping one's hand on a car for 24 hours with just a 10-minute break after 12 hours "is nothing short of torture.
"But, in as much as the people all volunteered, it's voluntary torture," he said and questioned whether the Brewery could not come up with "something less cruel to put as a competition to advertise their product?
"Because it is not the car that was being advertised, it is really the product sold by the organisers. And the way people will subject themselves to that sort of cruelty is amazing," Campbell said.
He, however, congratulated the winner of the competition.
"And if anybody deserved to win a vehicle, it had to be him. Holding on to a vehicle for 24 hours and then being lucky enough to pick the right keys, power to you my brother.
"You really deserve that car. Nobody should envy you. You worked for it," Campbell said, adding that each of the other 10 persons deserves a prize.
"Each of them is worth at least a thousand dollars in their pockets just to have the courage and the stamina to go through all of that. … I hope we don't see a repeat of that precise competition. I may be old fashioned but to me, it is cruelty," he said.
"Surely, some form of adventurism could be found less cruel than having somebody stand for 24 hours in sun and rain. Good heavens."
But Lamont Medica, marketing coordinator at the Brewery defended the competition shortly after it ended on July 20.
He told I-Witness News it was not "abusive" and "slavery" as some persons at Heritage Square commented.
"You (participants) were told exactly what you were participating in and you chose whether or not you wanted to participate. We had 20 contestants; none of them complained.
"Funny enough, the only persons that said that were not participating, to actually hold on," he said.
Meanwhile, the participants, speaking at a Brewery press conference on Tuesday noted that they had a choice and said the competition was not abusive and that they did not regret participating.