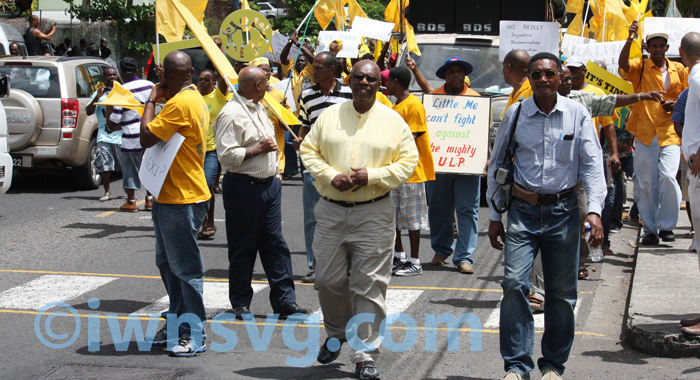 While the political activist hyping participants in the opposition protest in Kingstown on Friday felt that government senator, Julian Francis, deserved some special attention, Opposition Leader Arnhim Eustace felt he should have been ignored.
"Don't forget when you passing the Public Works to shout out Julian Francis. He sitting up there as usual. One day, one day, one day, he will have no more power," Clemroy Bert Francois told protesters as they neared they passed in front the Parliament building on Back Street, Kingstown.
Francis, who is also general secretary of the ruling Unity Labour Party, was standing on a balcony at the Ministry of Work building over looking the protest when Francois was making his comments.
And as protesters reached the street below where Francis was standing, they held up their placards toward him even as the senator, who is also Minister of Works, at times seemed to look down at them from behind his sunglasses.
But speaking at a rally at the end of the march, the Opposition Leader told the protesters that they should not allow others to distract them.
"I was in the march coming up there, down by Public Works and Julian Francis came out in the balcony to watch the march. All of you forget the march and start calling Julian.
" That is what he wanted. … You should have passed him straight. Your attention suddenly diverted to him. That don't do nothing for us. Let him see a firm set of people marching for change in their country. That is what they will see and then they will have to think again," Eustace said at the rally, which was held in the street in front of the Financial Complex.
And while other speakers at the rally including Central Kingstown representative, St. Clair Leacock, praised police for the manner in which they conducted themselves, Eustace criticised them for the security barricade they set up outside the Financial Complex.
Eustace said that because of the barricades protesters could not stand on the sidewalk and suggested that police could have closed the gates to the Financial Complex instead.
Leacock has met with police to discuss security issues relating to the protest.