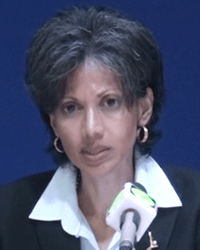 Members of the Building and Loan Association (BLA) were urged last week to reconsider recapitalisation options, even at the risk of the association losing its indigenous or cooperative characteristics.
Liquidity at the BLA now stands at EC$40 million — $30 million more than when the Financial Services Authority (FSA) took over management and control on Feb. 1.
The FSA told BLA members last week that liquidity, which stands at 18 per cent, is well below the 25 per cent target, although steady progress is being made.
Eleanor Astaphan, deputy executive director of the FSA and acting chief executive officer of the BLA, said some members have responded to the FSA's call to reconsider their notices of withdrawing their investments from the BLA.
There was a run on the BLA in January following some negative press and the FSA has placed a restriction on certain transactions.
But, notices of withdrawal amount to EC$70 million, five months after the FSA intervention.
Astaphan told the meeting last week that some members of the BLA had given an undertaking to retract their notices.
Among those withdrawing their notices of withdrawal was the Chamber of Industry and Commerce, she said.
She further said that the BLA returning to normalcy depends on "the responsible business behaviour of all members borrowers, depositors and shareholders".
She said the options for recapitalisation will involve new shares issues, partial conversion of redeemable shares and/or permanent shares or special deposits, and membership fees — all accompanied with benefits for member.
She said that while a key objective is to keep the association indigenous with a cooperative structure, any third-party solution, be it from Government or private investors, local or foreign, would mean losing one of those characteristics.
This means that the efforts at recapitalisation solution has to come from the members, Astaphan further said.
She said if members do not approve the recapitalisation plan, the BLA would have to be placed in judicial liquidation.
In such a scenario, the liabilities in permanent shares will be EC$3.1 million, redeemable shares, EC$54.7 million, deposits, ECS$165 million, and other liabilities, EC$12 — a total of EC$234.8 million.
On the assets side, there are loans of EC$210 million, which would have a liquidation value of EC$90 million. Liquid assets of EC$40 million would have to be discounted to EC$36 million, and fixed assets of EC$6.5 would equal EC$5 million in liquidation — for a total of EC$131 million.
This, Astaphan said, is a best-case scenario that does not take into account the expenses associated with liquidation.
She said these expenses can be significant and noted that in a liquidation scenario, the claims of creditors come first.