The views expressed herein are those of the writer and do not represent the opinions or editorial position of I-Witness News. Opinion pieces can be submitted to [email protected].
By Dr. Larry L. Palmer, Ed.D, U.S. Ambassador to Barbados and the Eastern Caribbean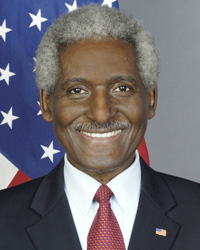 Fifty years ago today, Dr. Martin Luther King, Jr., led the March on Washington, one of the largest political rallies for human rights in United States history. I was a child at the time, but I was struck by his vision of a world committed to equal opportunity and equal justice under law, and the eloquence of his delivery. Many historians consider the march the catalyst for the passage of the U. S. Civil Rights Act of 1964, and the Voting Rights Act of 1965. The success of the march is rooted in the unprecedented coordination between and among civil rights groups, organized labour, and religious organizations who joined together to insist — even as they were confronted by violent resistance — that the universality of human rights be respected. The Voice of America translated the event's major speeches and rebroadcast them in 36 languages. The United States Information Agency organized a press conference for the benefit of international journalists, and created a documentary film of the event for distribution to U.S. embassies. Although the march took place in the United States, the message of universal human rights resonated globally.
As we mark the 50th anniversary of the March on Washington, civil society, labour, human rights groups and religious organizations continue to work together to ensure the rights of children, women, LGBT, and those with disabilities. The United States Mission to Barbados and the Eastern Caribbean has worked with our partners in the eastern Caribbean to end gender-based violence and violence against children, promote tolerance of the LGBT community, and encourage greater inclusion of the disabled. That support is a source of pride for me not only as the current U.S. Ambassador, but also the idealistic kid who 50 years ago was inspired by Dr. King's dream of an America and a world that would fully embrace human rights.