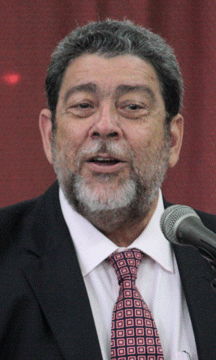 The three new government senators will be announced later this week, Prime Minister Dr. Ralph Gonsalves says.
"This morning, I went up to see His Excellency the Governor General, talk to him about several things. The Constitution says I have to talk to the Governor General from time to time. I have to tell him what's happening in Government. And I had to tell him, talk to him personally as to who the three persons I am going to appoint, ask him to appoint as senators, and the portfolios to be assigned to two of them, two of them," Gonsalves said on Saturday in Georgetown.
"I will do the appointments late next week. I want those who're speculating to talk more. What it means is — I hear so many names, it means we have a cupboard of riches from which I can choose," Gonsalves further said.
Three senators demitted office in mid-August and Gonsalves had said that he would have announced their replacements by the end of the month. But he said last week that the announcements would be made around Sept. 15, ahead of the next meeting of Parliament, on Sept. 19.
It is widely believed that the Prime Minister's son, immediate past Ambassador to the United Nations, Camillo Gonsalves, as well as Luke Browne, who lost to Opposition Leader Arnhim Eustace in East Kingstown in 2010, will be named senators.
Sources in the know have told I-Witness News that the younger Gonsalves will be appointed Minister of Foreign Affairs while Browne will be made a parliamentary secretary.
Gonsalves, who is now acting Minister of Foreign Affairs, also said on Saturday that he had sent the former Ambassador to Caracas to represent him at a meeting of foreign secretaries.
But while the Prime Minister has suggested that the delay in the announcement of the senators is solely because he has many options to choose from, I-Witness News understand that the third person who Gonsalves has asked to be a senator has not given a definite response, some two weeks after the offer was initially made.
The new senators will replace former Minister of Foreign Affairs, Dr. Douglas Slater, former Parliamentary Secretary in the Ministry of Culture, Elvis Charles, and Deputy Speaker of the House of Assembly, David Browne.