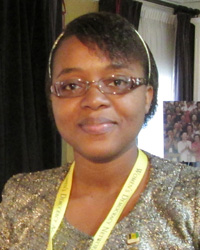 Founder and Leader of the 1-year-old Democratic Republican Party, Anesia Baptiste, will meet with Vincentians in New York in a town hall meeting on Saturday.
Baptiste said that the meeting is in an attempt to spread awareness of her party as "New Hope from Service to the People" for governance in SVG, as well as to lobby for their support.
Baptiste will give the feature presentation at the meeting, scheduled for 7:30 p.m. at the Friends of Crown Heights Community Center.
Baptiste said the decision to visit the diaspora this early in her party's existence is "testimony of the importance the DRP places on people's participatory power which is one of the DRP's watch phrases," a DRP release said.
"Vincentians in the Diaspora are never to be treated as second thought since they are as much a part of the development of our Country as are residents living on the islands which make up our state. It is a policy of the DRP to engage the people's participation from the very beginning," she further said, according to the release.
The first woman political leader in SVG explained that Vincentians in the diaspora can expect to hear about her party's philosophy and some of its plans for governance of SVG.
Baptiste, who hosts the weekly television programme "Serving the People" and is also known for her active role in humanitarian efforts for Vincentians, is also requesting donations from persons attending the meeting.
The meeting will be broadcast live in SVG on WE FM Radio and Internet TV from 8 p.m.
The DRP was announced on Aug. 23rd, 2012.