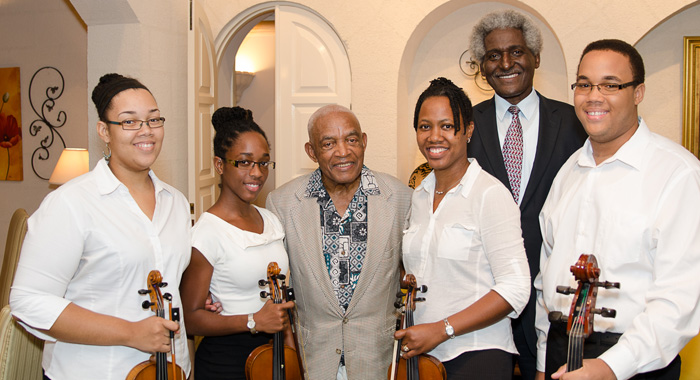 The Embassy of the United States to Barbados, the Eastern Caribbean, and the OECS on Monday celebrated the life and work of Barbadian-American lyricist, Irving Burgie, by hosting a creative workshop at the US Embassy in Barbados.
In addition to honouring Burgie, the workshop helped recruit for and highlight the International Writing Program (IWP), a 10-week academic and cultural exchange programme co-sponsored by the University of Iowa and the Department of State's Bureau of Educational and Cultural Affairs.
The programme is one of the United States' premier workshops for creative writing and brings together established and emerging creative writers, poets, fiction writers, dramatists, and non-fiction writers from around the globe. The Eastern Caribbean has only had two writers participate in the programme to date: Grenadian novelist, Oonya Kempadoo, in 2011, and Barbadian poet, Anthony Hinkson, in 1974. The U.S. Embassy's goal is to increase the number of participants from this region.
Dr. Larry L. Palmer, U.S. Ambassador to Barbados, the Eastern Caribbean, and the OECS provided opening remarks, and then Irving Burgie discussed his inspirations and provided insight on his creative process. Associate Director of the International Writing Program at The University of Iowa, Hugh Ferrer, gave workshop attendees an overview of the IWP, while former IWP participant, Oonya Kempadoo, shared her unique experiences in the program via video conference. Creative writer, educator, and workshop facilitator, Mrs. Nailah Folami Imoja, then advised the group on how to build a standout writing portfolio and led a discussion and critique of two writing samples.
Later in the evening, Palmer hosted a cocktail reception at his residence in honour of Burgie.
Burgie greeted several friends, family, and special guests, including the former Attorney General of Barbados, Sir Frederick Smith, as well as, the Principal of the University of the West Indies, Cave Hill, Professor Sir Hilary Beckles. During the formal program, members of the National Youth Orchestra played a medley of Burgie's work, as he led the reception in song and provided insight on each song's unique history.