The Government has pledged assistance to those affected by the torrential rains on Christmas Eve but has made it clear that the country cannot do it on its own.
Eight persons are dead and five were still missing on Thursday, almost 48 hours after torrential rains Christmas Eve night caused floods and triggered landslides in various areas of the country.
During a national address midday Thursday, acting Prime Minister, Giryln Miguel, declared a Level 2 disaster for St. Vincent and Grenadines.
Michelle Forbes, deputy director of the National Emergency Management Organisation (NEMO), told I-Witness News that a Level 2 disaster means that the country can handle things locally but might need some "technical support from outside".
Level 4 indicated a most severe disaster.
In her address to the nation, the acting Prime Minister encouraged citizens to begin the recovery.
"Ladies and gentlemen, the rain has passed, but now we must pick up the pieces and repair our country. This is a job that calls for all hands on deck. Please go out today and render assistance to all those who need help. The Government will continue its efforts to clean up and to restore our services to normal, but help is needed," Miguel said.
Miguel, who toured some of the affected areas on Christmas day, said this is "one of the saddest times in our country's recent history".
The impact on the country was "phenomenal, she said, adding that the lost of eight lives and the five missing persons was "sad news".
Miguel said that 62-year-old Raymond Gonsalves died in his house in Manning Village, Byera when a landslide tore down a slope and covered his house.
Other houses and vehicles were damaged by the landslide.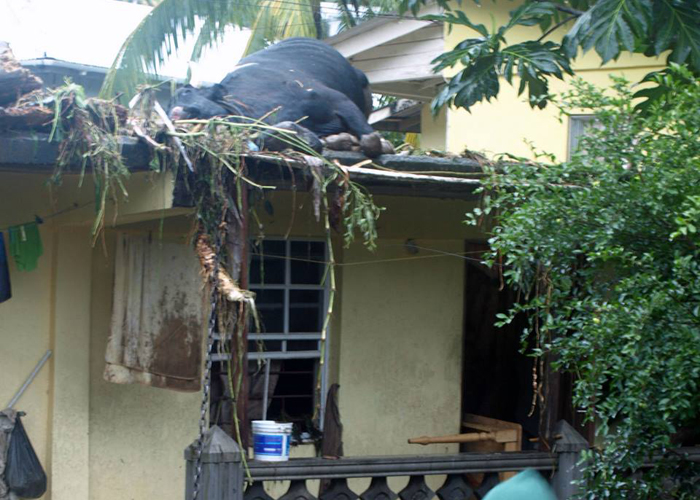 Five persons died in Rose Bank when a slope failure triggered the collapse of their house, while three relatives managed to escape.
They have been identified as Wesley Nanton, 73; Hannah Nanton, 70; Hazel Baptiste, 48; Bernard Nanton, 24; and Yanick Nanton, 18.
"Unfortunately, owing to the extreme conditions, the local residents, though they tried feverishly to reach the remaining five persons trapped in the house, were unable to do so," Miguel said in reference to the five who died.
She noted that during the effort to reach those who were trapped inside the house, it was still raining heavily, and there was a power outage, even as numerous landslides prevented "any effort to mount a rescue mission".
In Vermont, the body of Desmond Wilson, 43, was found lodged in a tree along the riverbank on Christmas Day. He was swept away as he tried to make his way home Christmas Eve night.
At least 15 persons were reported injured, six of whom are being treated at the Chateaubelair Hospital.
Sixty-two persons are in shelter, 59 of them at the Buccament Bay Secondary School, with others at the Rose Bank Community Centre and Chateaubelair Methodist School.
Fifteen houses have been reported damaged and nine destroyed.
"We expect that number to increase as more reports come in," Miguel said. "The damage situation around the country is quite remarkable," she further stated.
She said her tour to the North Windward on western St. Vincent was cut short when Chief Engineer, Brent Bailey, advised them to turn back in Rabacca because the road between Orange Hill and Rabacca was badly damaged in several areas and quite dangerous to vehicular traffic.
There was s similar situation on the Leeward side of the country, with the tour ending in Belle Isle because of multiple landslides along the Leeward Highway.
"What we saw on our tour was quite mind boggling and has mandated that we declare a level two disaster for the state of St. Vincent and the Grenadines," Miguel said.
Disaster areas have also been declared in the Vermont (Buccament) Valley all the way down to Buccament Bay, in addition to Spring Village, Rose Bank and Dark View on the Leeward Side; and South Rivers; O'Briens Valley, and Spring Village, Georgetown
The roads from Rabacca to Orange Hill are seriously damaged and are closed to vehicular traffic until further noticed. "Please refrain from using them until new arrangements have been made," Miguel said.
Several houses, shops and different buildings were swept away in different area of the country when rivers overflowed their banks and
many homes were flooded out.
"The situation was so bad that some persons had to be rescued from their homes using ladders loan by residents and the search and rescue services of the Royal St. Vincent and the Grenadines Police Force," Miguel said.
"I must commend the resilient spirit of our people, who, in every place, were busy trying to clean up mud and debris from a flood of unprecedented proportion. It was very good to see so many persons trying to help themselves and others."
The agricultural sector also suffered significant damage, with many farmers losing crops and livestock.
The road infrastructure has taken "a huge beating," Miguel also said.
"We have most many bridges in many parts of the country. The rapid flowing floods have also damaged many kilometers of road," she said, adding that a more detailed assessment will continue into Friday to determine the full extent of the damage to roads and bridges and to determine the cost for their replacement.
Over half of the population was without water, Miguel said.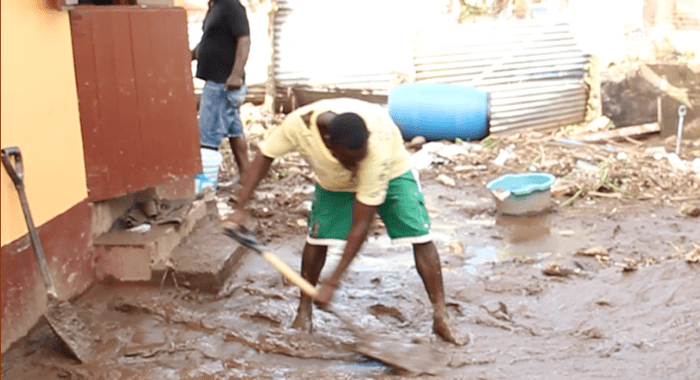 There is heavy damage to three of the Central Water and Sewerage Authority's (CWSA) distribution systems and it may take a few more days before water is resorted to all communities.
"I urge you to listen to the information on water safety that the CWSA is releasing on our radio stations," Miguel said.
The Ministry of Health has also appealed to all citizens to ensure that water used for human consumption, including bathing, is not only clean but also safe.
The state-owned power company, VINLEC has reported that there is also damage to its distribution and generation network.
The Cumberland power plant was severely damaged by the floods and it may be many months before the reports of the facility can be completed, Miguel said.
There was also some damage to Buccament Bay Resort but the assessment was not yet complete.
Flooding resulted in the evacuation of three wards at the Milton Cato Memorial Hospital and the clean up is still ongoing.
E.T. Joshua was flooded Tuesday night and remained closed until 3 p.m. Wednesday.
"I have to thank all the persons and agencies who went to the airport to help in the clean-up exercise," Miguel said.
She further said that the National Emergency Operations Centre is activated at NEMO and that the Health Emergency Committee has been activated from the Milton Cato Memorial Hospital.
Damage assessor will continue their work on Friday, Miguel urged citizens to cooperate and give accurate information.
A special meeting of the subcommittees of NEMO was scheduled for Wednesday afternoon.
"As you go about the task of restoring normalcy and calm to our communities, I pray God's grace on those who suffered loss of any kind. Let us continue to ask for the mercy of God and for his grace to cushion our burden at this juncture in our nation's existence," Miguel said.