(See video at end of post)
St. Vincent and the Grenadines on Saturday paid its final respects to two of the nine persons who died in the floods and landslides triggered by the trough system on Christmas Eve.
The trough system has also left at least three missing.
At the funeral of 18-year-old Community College Student, Keslia Sara James at Union Methodist Church in New Grounds, Reverend Pierre C. Zephyr responded to the questions "why?"
Why were nine lives snatched away at Christmas – usually the happiest time of the year, when people are celebrating life – the very birth of Christ?
God wants us to trust him regardless of the circumstances, the cleric says.
James and her 2-year-old niece, Canadian Shalarni Headley, died when they were swept away by floodwaters in Cane Grove.
(See photos of James' funeral)
The tributes at James' funeral portrayed a self-confident, intelligent, and caring young woman, with a bright future ahead of her.
Including among the tributes were those from James' friends Nia Velox and Shafel Cruickshank.
Theodore Browne-Billy delivered the eulogy.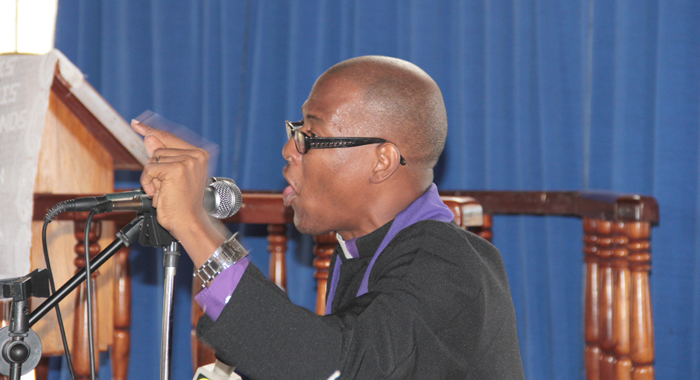 Meanwhile, in the neighbouring community of Belle Vue, Prime Minister Ralph Gonsalves delivered the eulogy of his cousin, 62-year-old Raymond Gonsalves.
Raymond died when a landslide hit his home in Manning Village, also on Christmas Eve.
The prime Minister noted the irony of the death of his cousin, who was among persons relocated from the seafront in Byrea, because of rising seas.
But the prime minister also spoke of the other lives lost, including James', and the transient nature of life itself.
At James' funeral, her sister, Colleen James-Headley, was among mourners singing the Southern Gospel song "farther along".
James-Headley had brought her children to spend Christmas in St. Vincent, the land of her birth.
Now, she mourns not only for her younger sister, but also her own daughter.
James-Headley told I-Witness News that she will take her child's body back to Canada for burial.
The other victims of the 24/12/13 disaster, including five members of a household in Rose Hall, and a resident of Vermont, are expected to be buried here this week.
http://youtu.be/7RMxjGMLA3Q