St. Vincent and the Grenadines is at war with nature, and, when war breaks out, soldiers do not have to wait for invitation to join in, Prime Minister Ralph Gonsalves says.
(Read also: Nature at war with humans, PM Gonsalves says)
"And we are still in this war, and I just want to say to everyone at the beginning, when a war commences, soldiers don't wait for an invitation to join the war; soldier report for duty. And, at that time, there is only one commander-in-chief. … In relation to St. Vincent and the Grenadines, the chief executive is that commander in chief, and that is the prime minister," Gonsalves said.
He was speaking at a press conference on Monday and responded to a statement by Opposition Leader Arnhim Eustace, that the Opposition was not invited to a disaster response meeting on Dec. 28.
"We got 49 per cent of the vote in the last election. We represent over 30,000 people who voted for us in the last election here in St. Vincent and the Grenadines. And to have a planning meeting to look at a disaster situation in St. Vincent and the Grenadines, and to exclude us from that sort of deliberation, I find quite unacceptable," Eustace told I-Witness News on Dec. 30 after his New Democratic Party held its own planning meetings.
(Read also: Opposition says its omission from national disaster response meeting 'unacceptable')
But Gonsalves said on Monday that other governments "reported for duty out of solidarity".
The meeting also involved local and regional disaster responders, representatives of local and regional financial institutions, local contractors and representatives of the Government of Trinidad and Tobago.
Gonsalves said that among the persons reporting for duty were Prime Minister of Trinidad and Tobago, Kamla Persad Bissessar who asked what she can do, and her Kittiian counterpart, Denzel Douglas, whose government gave EC$1 million.
Gonsalves also mentioned a British national who sent EC$1 million, and Allan Duncan, a British minister on holidays in Mustique, who toured some of the affected areas in St. Vincent.
The opposition NDP also toured affected areas, and distributed bottled water.
(Read also: NDP tours and delivers water to North Windward communities)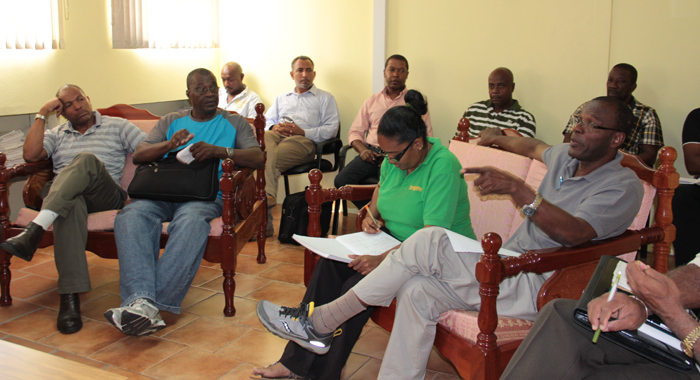 "Vanities must not hold us back. In this battle, we report for duty. And that is what I tell everybody still today in St. Vincent and the Grenadines. NEMO is there; come and volunteer. What we don't want to have in this period where we are going to have this country arise, different and better, the last thing we want is petty bickering, people who don't even pack a food hamper, persons who don't organise a tin or corned beef or a tin of sardine, but have more to say than everybody else.
"It is a free and democratic country, we can say all we want to say but you are judge by what you are doing in this period, not what you are saying. … and you have to be decisive," Gonsalves said.
"I repeat, all those who want to be involved, report for duty at the respective location, because that is what honourable soldiers do, and let us get on with the rebuilding of this country."