The actions of recalled SVG Deputy Consul General in New York, Edson Augustus have not tainted the name of St. Vincent and the Grenadines, Prime Minister Ralph Gonsalves says.
"How in heavens' name the functioning of a deputy consul general outside of the scope of his employment amount to a tainting of St. Vincent and the Grenadines or the government?" he told a press conference on Tuesday while responding to a question from a journalist.
Augustus, a former pastor, was recalled and fired last month after admitting that he took money from persons in New York and offered to help them source U.S. Permanent Residents Card, commonly called "Green Cards", the government has said.
"You feel tainted? If you feel tainted, you are tainted in your mind without any relevant relation to the facts," Gonsalves further said in response to the journalist's question.
He said that one would "notice" that Augustus was recalled less than 24 hours after the government received confirmation that he acted outside the scope of his employment.
"You've ever seen such swiftness of action? What you would have been concerned about is if there was a string of words condoning what had happened."
The journalist had noted that Gonsalves had opted to send Grenville Williams, director of the Financial Intelligence Unit, to deliver on his behalf a speech at an international conference addressing moves towards a corruption-free Caribbean.
Gonsalves said he was unable to attend because he has a lot work in respect of the supplementary estimates to be presented in Parliament on April 2.
The journalist asked Gonsalves' reaction to persons tainting the SVG government as corrupt in light of the Augustus saga.
Gonsalves said their might be an official in a ministry who from time to time would be brought to court for fraud or theft, some of whom are convicted.
He further said that at times, there is an "infraction", but the Director of Public Prosecution does not prosecute and the accused are disciplined internally.
"What you must be concerned about is what are the disciplinary processes which exist and persons who do anything involving dishonesty with state property or is, quote-unquote, corrupt in anyway, that there is a process that brings such persons to justice."
He noted that SVG ranks 33 among the 177 countries on Transparency International's 2013 perception of corruption index.
On the index, countries closer to zero are perceived as less corrupt.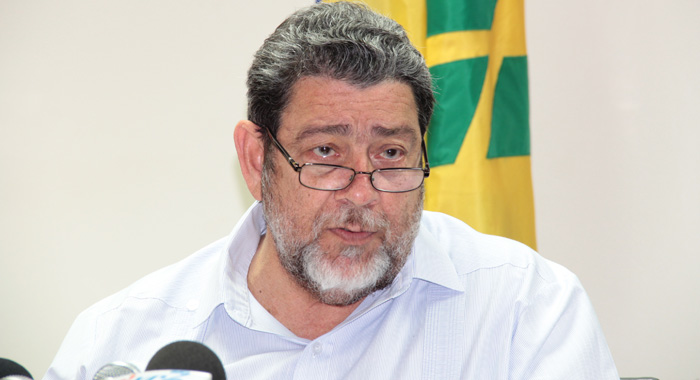 Gonsalves noted that Jamaica and Trinidad and Tobago rank in the 80s, and Guyana is even lower down.
"It doesn't mean that you don't have better to do. But when they tell you that St. Vincent and the Grenadines is among the most corrupt countries in the world, well look at this perception of corruption index."
He further said that apart from the provisions in the law that deal with corruption, there are proceed of crime and money laundering laws for "politically exposed persons".
Gonsalves described as a "gap in the legislative regime" the absence of declaration of assets of politicians and high office holders.
"But I am satisfied that if you have a sound system of a legal framework and its implementation, outside of the declaration, that you handle corruption effectively," he said, adding that Jamaica and Trinidad and Tobago, which have such legislation, ranked in the 80s on the index.
"… and they have a sophisticated system of an integrity commission," Gonsalves further said.
"But the point is this: if your principal institutions are not working properly — the judicial system, the legal framework dealing with money laundering and proceeds of crime, your investigative agencies, like and FIU, the office of the DPP, the office of the director of audit — …, you can have as many targeted interventions as you want, you are not going to have the matter of official corruption being dealt with properly, and, of course, you must have a culture, a participatory and supportive culture to fight corruption, which exist in this country," Gonsalves said.
He noted that he and Prime Minister of Bahamas, Perry Christie were invited to address the conference.
"I am sorry that I couldn't have gone, but I wrote a paper and after the paper is delivered, I will circulate it to the press so you would see what I wrote," Gonsalves said.