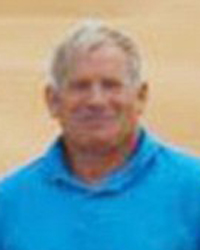 John Edward Garner, the British man found dead at sea on Wednesday was the only person aboard his yacht when he left Bequia for Cumberland earlier that day, Bequia-based yachtsman Winston "African" Simmons told I-Witness News on Thursday.
Simmons further told I-Witness News that Norwegian Heidi Hukkelaas, who police are hoping to question in connection with Garner's death, left Bequia by airplane for Norway on Tuesday.
Commissioner of Police, Michael Charles, told I-Witness News on Thursday that the Immigration Department has said that they have no record that Hukkelaas has left the country.
Garner's yacht, "ASANTE" was burnt down to the watermark when a team from Indigo Dive responded to plumes of smoke rising from the waters off Buccament Bay, about 11:45 a.m. Wednesday, Kay Wilson, owner and manager of Indigo Dive told I-Witness News on Thursday.
Wilson said Garner was found floating in the water — and not in a life raft, as police have said — and the yacht sank soon after they arrived.
Garner and Hukkelaas arrived in St. Vincent on Jan. 19 and were permitted to stay until April 19.
The police chief told I-Witness News that foul play is suspected in Garner's death and investigators are wondering if Hukkelaas is involved or perished in the incident.
But Simmons told I-Witness News separately on Thursday that Garner was wrapping up his visit to St. Vincent and on Tuesday Hukkelaas flew from Bequia to Barbados, the first left of her trip back to Norway.
He said that Hukkelaas has been in contact with a mutual friend since she returned to Europe.
Simmons told I-Witness News that Garner was going to spend a day in Cumberland, a yacht anchorage on St. Vincent's west coast, before sailing to Antigua, where he had planned to leave his yacht when he left the Caribbean.
Reports in the local and international media have suggested that Garner was murdered, but Wilson, whose team from Indigo Dive was first to reach Garner's burning yacht, says she saw nothing to suggest this.
"I would surmise from his injuries that Mr. Garnet's gas bottle exploded on the vessel; I did not see any evidence to suggest foul play," Wilson told I-Witness News in a written statement on Thursday. (Read entire statement at end of post.)
She further told I-Witness News by telephone, also on Thursday, that given the time of day when the incident occurred, and that Garner had injuries to the head and feet, she believes he was bending over while cooking in his galley, and an explosion occurred at the same time.
Wilson added that while she only saw Garner's body in the water, there were no obvious injuries to his torso, even as he suffered severe lacerations to the head and feet.
She said this led to her theory about the sailor having been bending over when an explosion occurred.
Wilson further told I-Witness News that while the police said on Wednesday that Garner was found in a life raft, this was not the case.
She said he was wearing a lifejacket and was found floating in the water.
Wilson further told I-Witness News that after whatever happened on board yacht, Garner, whom she described as a "consummate sailor", seemed to have had the presence of mind to remove from the yacht, the drop bag — a waterproof bag in which sailors keep their travel documents, and important information about the number of passengers on board the vessel.
She said that the drop bag did not contain any information suggesting that there was any other passenger aboard the vessel.
She further siad that the liferaft did not deploy properly and seemed to have been damaged by the heat from the burning yacht.
Wilson further told I-Witness News that Garner's family had contacted her to thank her and her team for their assistance in retrieving information that left to the swift identification of the deceased.
Statement to I-Witness News by Kay Wilson, owner and operator of Indigo Dive, regarding an incident at sea on Wednesday, March 26th, 2014.
On the 26th March at approx 11.45 [a.m.] my team and I were on a dive tour with 6 guests, of which 2 were children. I own and operate Indigo Dive, based at Buccament Bay resort.
The boat driver, Emron Matthews of Rose Bank, noticed a plume of smoke out to sea. We checked to see how much gas we had and then made haste to the vessel.
I took the wheel of my boat, and at approx 10 knots we took approx 15 – 20 minutes to get close to the catamaran that was now almost burnt down to the water mark. Other yachts changed course to head to the stricken vessel, but we reached it first.
About quarter of a mile away we saw a flashing light approx 150ft down wind from the burning catamaran, we approached with caution and trained rescue diver / scuba instructor Keon Murray of Old Montrose entered the water and swam to the victim.
Keon signalled that the male victim was not conscious, and given the lack of blood in the water he was most likely deceased. He had sustained very serious injuries to his left leg. He had also sustained injuries to his face. I asked Keon to stay with the victim as an other boat was approaching, and they would be able to remove the victim from the water more easily as we had young children onboard and did not want them to witness the injuries that the victim had sustained.
I noticed what appeared to be signal flare approx 300 yards further down wind, so went to investigate. I turned out to be a cushion from the boat that was on fire, however we found a waterproof bag floating nearby which on investigation turned out to be the captains 'grab bag'. Inside we found a passport, and other documents, from this we were able to get the name of the victim, the name of the vessel and other important details. We were able to surmise that the victim was alone on the boat.
Coast Guard arrived on the scene shortly afterward and as we were running low on fuel we handed over the search and information that we had with regards to the status of the victim to them.
We can surmise that the victim was able to make from the boat following an explosion on board, Unfortunately his life raft did not deploy properly, and it became damaged from the heat from the fire which was extremely intense.
We found out subsequently that the victims wife flew back home yesterday, and the victim had enjoyed time in Bequia prior to the accident. He was on his way to overnight in Cumberland, and was then due to make his way to Antigua.
Keon showed great fortitude, and as we were able to recover the victims personal information we were able to allow the authorities to contact his next of kin so that they know what happened to their loved one.
I have provided a statement to the Maritime Agency as per protocol.
"A master of a ship at sea, which is in a position to be able to provide assistance on receiving a signal from any source that persons are in distress at sea, is bound to proceed with all speed to their assistance."