Telecommunication provider Digicel has suggested to the Ministries of Education and Telecommunication ways in which technology can be used to maximise student's benefit from the laptop being distributed by the government.
The government this month began the distribution of laptops to secondary school students under the one laptop per child initiative, and following on the heels of this, Invest SVG, through collaboration with telecommunications services provider Digicel suggested to the Ministry of Telecommunications an idea on how to maximize the use of the laptops.
Last week, Minister of Telecommunications Camillo Gonsalves met with Digicel's Director of Projects for the Caribbean and Central America, Lisa Lewis, and Sanjeev Patni and Ringkasan CV Raman of software solutions company Xchanging.
During the meeting, Lewis said that Xchanging, through their learning management solution, has transformed the educational system in Malaysia into a top of the line ICT setup that benefits students, teachers, and parents.
Over the years, Digicel has been involved in a lot of work in education and has adopted the Millennium Development Goal (MDG), which speaks to literacy, Lewis said.
She said that in St. Vincent, Digicel wants to examine how to use technology to enhance education. She added that in other countries, Digicel has created technology enabled learning environments where teachers have been taught how to use ICT to integrate their current content.
"This is more than just using a laptop and bringing a tablet into the classroom, it is about how they create ICT content that is correct and engages the student. It's more than just being ICT literate; it involves being an ICT enabled teacher and how to use ICT tools to train," Lewis said, adding that this concept can help maximize the use of the laptops.
She said Xchanging's learning management solution not only focuses on using ICT as a tool to educate but also, among other things, make reports on things like absent teachers and students, something that Chief Education Officer Lou-anne Gilchrist said the Ministry of Education plans to look into.
Lewis said Digicel has helped various ministries of education to improve their education system, including in Jamaica, Antigua and Barbuda, and Trinidad and Tobago.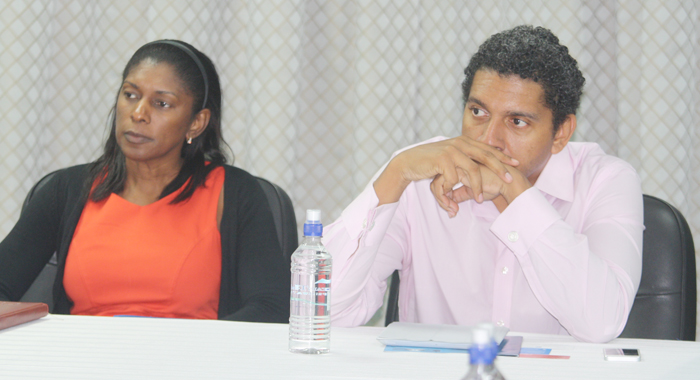 Meanwhile, Gonsalves said that the government is at a point where, "we want to maximize technology that has been placed in the hands of students and that involves pedagogical and curriculum adjustments that are not fully thought out as yet".
He added that his ministry must sit down with high-level officials in the Ministry of Education to deal with this issue.
Gonsalves further noted that female students are outperforming male students and that the government would like to look into this.
He said the boys have been gravitating towards technology.
"We would like to see how we can use these laptops to address this," Gonsalves said.