The views expressed herein are those of the writer and do not represent the opinions or editorial position of I-Witness News. Opinion pieces can be submitted to [email protected]
The Netherlands clinched third place at the World Cup with an easy 3-0 victory over a forlorn Brazil.
The crowd then heavily booed the Brazilians off at half time, having given them a rousing performance of the national anthem only 45 minutes earlier.
This is the first time since 1940 that Brazil have lost consecutive matches on home soil (in 1940 they lost 0-3 v Argentina and 3-4 v Uruguay).
Brazil have failed to score in two games in a World Cup tournament for the first time since 1978, when they also failed to find the net in two games.
I've learnt a lot about David Luiz watching him in the EPL and this World Cup. This is what I observed, hence, the reason why Mourihno sold him and Brazil get humiliated in two games (10-1).
He's a big error-prone? His positioning's all over the place?  PSG are a laughing stock for shelling out £50m to bring him in from Chelsea — but they knew all about his strengths and weaknesses when they signed him. Laurent Blanc won't be doing cartwheels, but he's seen nothing from Luiz that he didn't know already.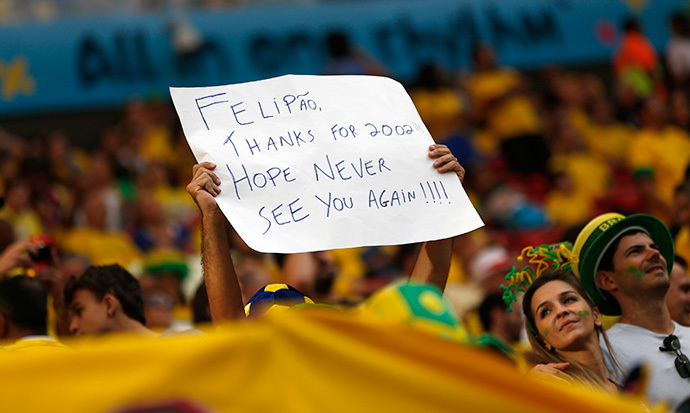 Brasil fans got tricked after Big Phil led them to the confederation cup with the same team.
But supporters must remember this is a world cup where the pressure is more intense. I can't see a young/inexperience team winning a World Cup regardless of the crowd support.
If Scolari could have only include the following players who were top performers with various teams across the globe Brasil and included them to majority of his young squad, they would have been smiling toady, Sunday, 13 July, 2014, around 6 p.m. Eastern Time.
These are the players I was looking at during the leagues across the world:
Lucas (Liverpool) Midfield
Coutinho (Liverpool) Midfield
Kaka (AC Milan) Midfield
Robinho (AC Milan) Forward
Miranda (Ath Madrid) Defender
Flipe Luis (Ath Madrid) Defender
Ronaldinho (Ath Mineiro) Midfield
Rafinha (Bayern Munich) Defender
Marquinhos (Roma) Defender
Pato (Sao Paulo) Forward
Sandro (Spurs) Midfield
FINALLY
This is my prediction for Brazil to win their 6th World Cup whenever. They are to include some raw talent from the Brazilian League without exposing them to European Leagues where they wouldn't be monitored and train differently.
And I think it's time that Brazil utilize a foreign coach along with their own.
Just remember I'm a France supporter forever.
Dominique Stowe