Leader of the Opposition Arnhim Eustace this week cast himself as a principled person who has the training and experience necessary to lead St. Vincent and the Grenadines.
"I am eminently qualified to be Prime Minister and more so to be Minister of Finance in St. Vincent and the Grenadines," he told party supporters at the New Democratic Party's "Ring De Bell" island tour in Campden Park Tuesday night.
"And when the NDP wins the next election, that is the job I will do…" Eustace said, adding that he will deal with all those involved in corruption.
(Scroll for link to photo)
The East Kingstown MP was Minister of Finance under the NDP administration from 1998 to 2001, when the party was voted out of office, after 17 years.
He was also prime minister from October 2000 to March 2001.
Eustace spoke about his experience working at the Caribbean Development Bank and helping to reform the Belizean economy.
The 70-year-old politician further told the meeting how he resigned 40 years ago, on a matter of principle, as permanent secretary in the Ministry of Agriculture.
He said many businesses did not have traders' licences, which cost $12 a year.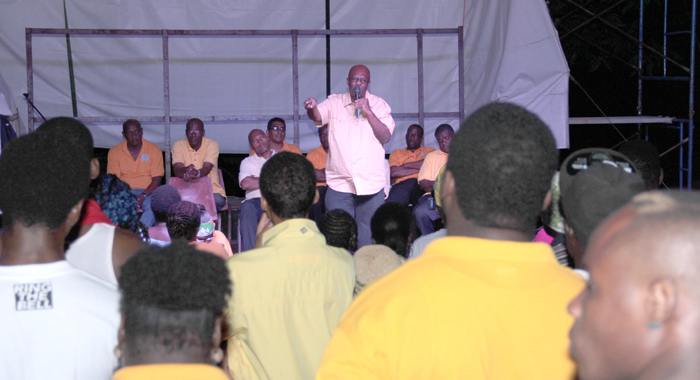 "And we brought a lot of cases against businesses in St. Vincent who were breaking the law and not having a trader's licence."
"And I dealt with that. A lot shops got fined, a thousand-dollar fine and so on.
"And then CSY (Caribbean Sailing Yachts),… they refused to pay he traders licence."
He said a case was brought against CSY, and the Cato government tried hard to stop the case by "withdrawing" when the magistrate called the case.
Eustace said that Ebenezer T.  Joshua was Minister of Agriculture and Joshua asked him to drop the case against CSY, which he refused to do.
He said one day he received a message from the magistrate that the case will be called the following Tuesday and the magistrate would not allow it to be postponed.
Eustace said that the day before the case was to be heard, Joshua again asked him to drop the case, and he again refused.
He said he told Joshua that as minister, he could decide to drop the case, but if he did so, there would have been consequences.
The day of the court hearing, Joshua wrote a memo and dropped the case, Eustace said.
"A big multi-million dollar company who didn't want to pay $12 a year — that is one dollar a month for a license — and small shops all around St. Vincent paying it and some lost their licence because they couldn't pay the fine," Eustace said.
Eustace said that as soon as he learnt that Joshua had dropped the case, he (Eustace) resigned from the public service and went home.
"I am giving you some of my history, because those experiences inform what I am today and will inform what I am tomorrow, and will inform what I will be when I lead this country," Eustace said.
"I have deliberately done this tonight, because I have been asked several times by people," said Eustace who added that he does not like to talk about his own qualifications and experiences.