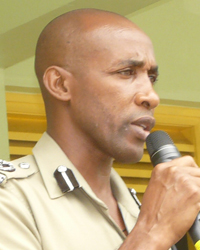 The Annual Summer Camp hosted by the Police Youth Club officially is underway at the Pamelus Burke Primary School, Byera with 130 children participating in the camp.
Remarks were given by Cpl. Loraine John, National Coordinator; Supt. Stenilia Francis, Divisional Commander; and ASP Jonathan Nicholls.
Assistant Commissioner of Police-Operations, Christopher Benjamin, delivering, the feature address, told the participants, "This is your camp, so make it the best camping experience."
He reminded the gathering to remain focused at all times and they will all contribute towards building a better society.
"Don't look at it as a get away," Benjamin said as he encouraged the participants to have the right attitude to be able to maximize the benefits of the camp.
Benjamin, expanding on the camp's theme, "Nurturing Our Nation's Most Valuable Resource", said children are the future of our nation.
He reminded the members of the Police Youth Clubs that to cherish their lives because their lives are like a garden.
"What you sow, nurture it and grow it that you will reap the benefits. I implore you to sow good seeds so you can make a worthy contribution to St. Vincent and the Grenadines," said Benjamin as he encouraged the campers to build positive characters, speak positive things at all times, pursue positive attitudes, be disciplined, orderly and have self control.
On Tuesday, the Police Force launched another of its crime fighting initiatives with the official launch of the Police Band Summer Programme at the Old Montrose Police Station.