The two main political parties here have restated their commitment to maintaining diplomatic ties with Taiwan, following a suggestion by an opposition politician that Kingstown was giving Taipei "fishing rights" in return for "wax apple".
The statement was made by the opposition New Democratic Party's (NDP) candidate for Central Leeward, Ben Exeter, who recently returned to St. Vincent from Canada, where he had been living for some 40 years.
"As far as I am aware, Exeter is the first candidate of any major political party since we have established relations with Taiwan to have questioned to the point of opposing our relations with Taiwan, and he did so on an incorrect factual base," Prime Minister Ralph Gonsalves told I-Witness News on Saturday.
"We have given Taiwan no fisheries rights to fish in our waters or in our exclusive economic zone. Absolutely not! And, obviously, this man is taking his leadership from the Green Party and not from his own party," Gonsalves said.
Both the Gonsalves-led Unity Labour Party (ULP) and the NDP have restated their commitment to maintain diplomatic ties with Taiwan, which have remained unbroken since they were established in 1981.
The Green Party, which got less than 1 per cent of the votes in the 2010 general elections, have remained opposed to the relationship with Taiwan.
Gonsalves noted the improved relationship between Beijing and Taipei, since Ma Ying-Jeou was elected president of Taiwan in 2008.
He said it is perfectly in order for somebody to advocate pursuing "some amended China policy" in light of the rapprochement between Beijing and Taipei, both of which say the are the legitimate seat of government for both China and Taiwan.
"Of course, the point is this, there is a difference nowadays, particularly since President Ma and the lessening of tensions across the Taiwan Strait and that is an issue which reasonable people can discuss.
"You don't, in a crass way, make the opposition to our relationship with Taiwan or argue for the diminution on the basis of something false," Gonsalves said.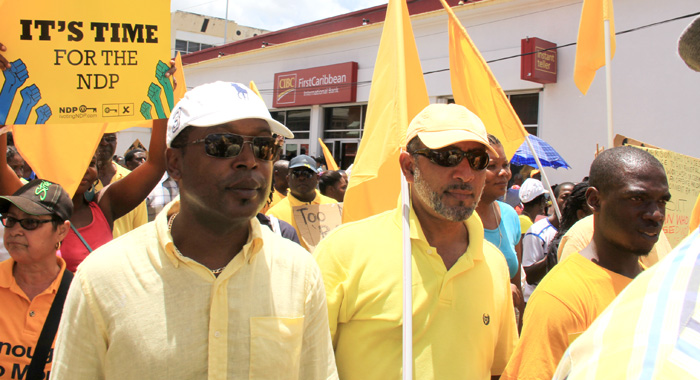 He explained that some Taiwanese vessels are registered in St. Vincent and fly the Vincentian flag.
"But that registration does not give them the right to fish in our exclusive economic zone," Gonsalves said.
He told I-Witness News he is "very pleased" with the relationship between Kingstown and Taipei.
"Our relations are excellent, as symbolized by the recent visit of President Ma to us and an invitation for me to go very shortly to see President Ma," Gonsalves said.
Ma visited SVG in August 2013 as part of a tour of some of Taiwan's allies in the Americas.
"We have excellent relations. Our co-operation is taking place on matters of interest to St. Vincent and the Grenadines and to Taiwan. We get a lot of material assistance from them and we assist them on a number of matters, internationally," Gonsalves said.
He noted that ULP senator, Jomo Thomas, the party's candidate for South Leeward, used to call for relationship with mainland China rather than Taiwan.
"Obviously, you can't ignore 1.3 billion people, the second largest economy in the world. But we have an excellent relationship with Taiwan, and the government doesn't see any reason to change that.
"Even though we co-operate with mainland China in the UN General Assembly, we co-operate in the G77 and China, but we don't have diplomatic relations with mainland China.
"I am not saying that Exeter is a stupid man, it just shows that on this matter he is ignorant of the foreign relations. And if he doesn't know about things, he should not talk about them, and be educated by his leadership."
Meanwhile, Godwin Friday, the NDP's spokesperson on foreign relations, told I-Witness News on Friday that the NDP remains committed to the SVG-Taiwan ties.
"I don't know what the comments are that you are specifically referring to, but I am sure that if you speak to those persons who are making the comments privately about details, I am sure you will find that their support and commitment is consistent with the NDP's position on that," Friday said.
Friday, who is MP for the Northern Grenadines and a vice-president of the NDP, said that SVG has historically had a lot of support from Taiwan and his party expect that that will continue.
"We hope that the relationship that it matures that we will be able to get things that are more for the development of the country rather than for show," adding that sometimes if an issue arises "you find that for diplomatic or public relations reasons" sometime is given, "but its actual long-term contribution to the country may be minimal".
Friday noted Taiwan's contribution to the building of the Argyle International Airport, relief and recover after natural disasters, education, and agriculture and agricultural research.