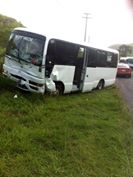 The St. Vincent and the Grenadines (SVG) National Senior Men's Football Team is expected to play its second game in the 2014 Caribbean Cup in Antigua later today although some members of the team were taken to hospital after the bus in which they were travelling was involved in an accident.
The SVG Football Federation said the accident took place on Bolans Highway around 3:25 p.m. Friday while the team was on its way to the stadium.
"The incident left Senior Coach Cornelius Huggins, Assistant Coach Wesley Charles, Goal Keeper Coach Kevin Richardson, Assistant Technical Director Alnif Williams and player Jahvin Sutherland with minor leg injuries, but on their way to the hospital as a precautionary measure.
"The rest of the team are already on another bus and headed to the stadium in preparation for the game," the federation said.
SVG is scheduled to play Anguilla at 5 p.m. in the Caribbean Cup.
The Vincentians won their first game one goal to nil against Dominican Republic on Wednesday.