At least one person was hospitalized as a result of torrential rains in St. Vincent that caused damage to some houses, and flooding in Buccament Bay and Kingstown early Saturday.
The rains, which began before dawn and continued until around 8 a.m. in some areas, triggered landslides and flash floods in some areas — reminiscent of the trough system on December 24 that left nine confirmed dead, three missing, and extensive damage to infrastructure and housing.
Prime Minister Ralph Gonsalves, in an update to the nation around 1:30 p.m. Saturday, said while there were no deaths resulting from the torrential rains, someone from the Largo Height area was hospitalized when a wall fell and damaged a house.
Arrangements were being made to have the residents of that house placed in a shelter, said Gonsalves, who has ministerial responsibility for disaster management.
In Trigger Ridge, a community in Central Kingstown, a house was in "a precarious position", and the government was making alternative arrangement for the family of eight, Gonsalves said.
Chair of the Housing and Land Development Corporation, Berisford Phillips, whose name has been flaunted as a potential candidate for Gonsalves Unity Labour Party in that constituency in the next general election, had visited the two families.
In Rose Place, Kingstown, the National Emergency Management Organization (NEMO) and the Social Welfare visited an elderly man who was affected by the extreme weather and arranged for him to be taken to hospital, Gonsalves said.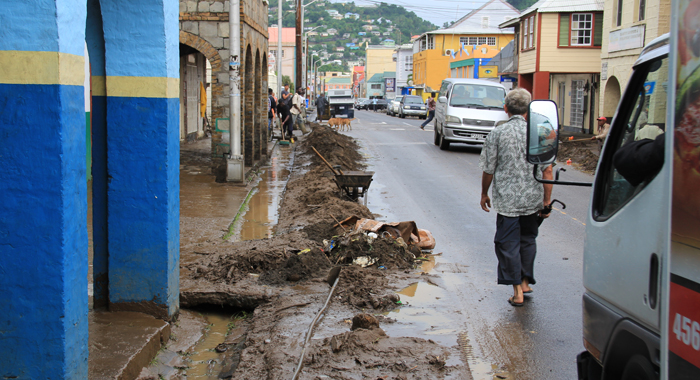 Kingstown was flooded and the   cleaning up was already underway, while the main E.T. Joshua Airport, which was also flooded, was expected to remain close until around 4 p.m., the Prime Minister said.
Gonsalves said there were landslides across the country and two families in Buccament Bay were affected and will be housed at the Rillan Hill Community Centre.
Several persons from Buccament Bay who were affected by the December floods are still being housed at the community centre in the neighbouring village.
Among the house flooded out in Buccament Bay were two that were also flooded out during the Christmas Floods.
The Buccament Bay Seventh-Day Seventh-day Adventist Primary School, which was flooded in December, was also flooded on Saturday.
Gonsalves said that Director of NEMO, Howie Prince, had gone to Grenada to attend an event to mark the 10th anniversary of the passage of Hurricane Ivan, which had devastated that southern neighbour.
Prince was stuck in Barbados on his way back to St. Vincent, and his deputy, Michelle Forbes, is doing a programme in Taiwan.
Gonsalves said NEMO is being managed by the third in command, Holda Peters, and assured citizens that the relevant state agencies have been activated.
Gonsalves said some persons were concerned that the NEMO head is not in the country, but added that Prince has to be out of country from time to time.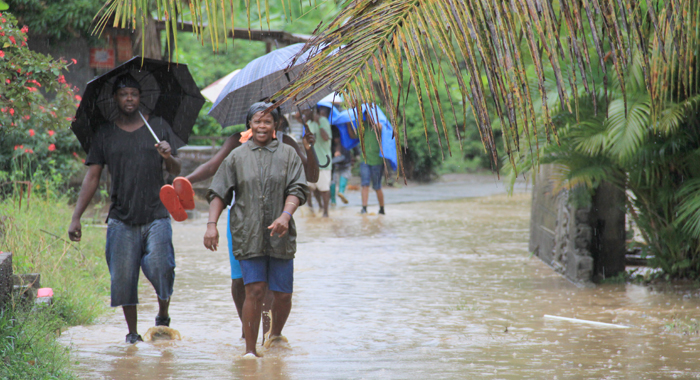 He said the Roads, Bridges and General Services Authority has been mobilized and information is being communicated across the various agencies.
"Generally speaking, we are on top of things. I have been in touch with the Deputy Prime Minister [and] she in touch with me. We left one of the classrooms at Buccament Bay opened just in case someone had to go in there, even for a temporary basis.
"As you would note from this interim report, we have matters under control and all the agencies are activated. I am on the road, I will be going up along the Windward (eastern) side to see further what is taking place," Gonsalves said.
He said the chief Engineer Brent Bailey had inspected bridges in the interior constituency of Marriaqua, "which is always a problematic area because of all the river" but "had not reported anything adverse".
"I just want to advise the people of St. Vincent and the Grenadines that other rainfall is likely to fall so we have to be on the lookout. You know we are vulnerable to natural disasters and we have to have a heightened sense of awareness and let's all take caution. And in all, we are in the hands of the Lord," Gonsalves said.
He noted that the clean-up will cost the nation, adding, "But it is not in anyway beyond us. We take everything in our strides."