By Dominique R. Stowe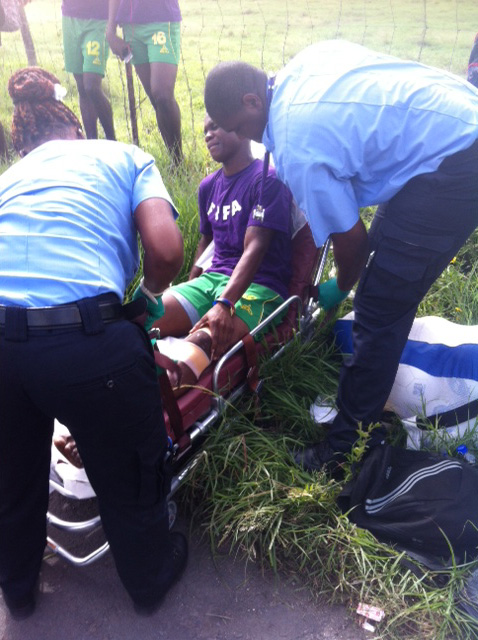 JOHN'S, Antigua — Team SVG (Vincy Heat) on Friday qualified for the semi-final round in the Caribbean Cup by comfortably beating below par Anguilla 4 goals to zero at the Antigua Recreation Ground.
The impressive youngster Oalex "Bounty" Anderson, wearing the famous #10 jersey, continue to captivate the hearts of Antiguans and visitors, scoring 2 goals, whilst the ever-present Myron Samuel and Zinhno Solomon completed the victory.
The day started badly with the team's bus getting in an accident with a police escort vehicle on the Bolans Highway about 3:25 p.m. on the way to the stadium.
That, however, didn't hamper the game plan, or preparation coach Cornelius Huggins had put in place.
The game started on time and it was clear from the start that Team SVG was still shaken from the accident. However, in the 36th minute of play, the quick, diminutive Myron "Left Eye" Samuel, playing in a deeper role, slid a brilliant pass through to Oalex Anderson who eluded the right back and was brought down in the penalty area. Myron Samuel stepped up and sent the keeper the wrong way.
The second goal came two minutes later in the 38th minute, when Oalex Anderson was fouled, again by the right back. Myron Samuel crossed accurately from the left side for Oalex to convert from 4 yards in.
The score at the half was 2 goals to nil.
The second half started the same way as Team SVG continued to hold possession and dominate.
Related: Vincentian footballers in vehicular accident in Antigua
After some near misses Azinhno "Zinhno" Solomon finally got on the score sheet in the 72nd minute with a well-placed left foot shot from around the 18 yards box after Oalex Anderson had hit the crossbar with a powerful header from a brilliant pin point cross from Jarrel McMaster overlapping down the right.
The final goal was completed immediately in the 75th minute by Oalex Anderson, again after a cracking 40 yard shot by Shorn "Barrow" Lowman which was deemed too hot too handle and Oalex "Bounty" Anderson followed up with an easy top in from 4 yards.
Team SVG showed their mental toughness after a day of frustration, with a couple of the players feeling ill and the accident just before the game.
The final game is scheduled for today, Sunday, at 7 p.m. against unbeaten Antigua.
This match will determine who goes to Trinidad and Tobago and Guadeloupe for the semi-final grouping.
The game will be streamed live at Cfufootball.com