By E. Glenford Prescott
Team Rivals overcame a blistering half century by captain Lindon James to retain the St. Vincent and the Grenadines Cricket Association Digicel Super40 with a 55-run victory over Radcliffe in the final of the competition at the Park Hill Playing Field on Sunday.
Scores: Team Rivals 205 (40 0vers), Radcliffe 150 (29.3 overs).
James, who went in at the top of the innings, took the attack to the Team Rivals bowling with some powerful shots to the fence and out of the ground with many of his shots able to easily clear bigger grounds.
He got a big slice of luck when, on 36, Team Rivals captain, Deighton Butler spilled a sitter when James miscued an attempted slog off veteran legspinner Orlando Jackson whom he had struck out the ground.
James made his opponents sweat as he set about dismantling the attack with clean shots and sensible running between the wickets in a partnership of 73 for the third wicket with Andrew Thomas (18). His early decisions, quick hands and eagle eyes appear to create a small but obvious bit of panic in the Team Rivals camp, which resulted in the constant call and encouragement from Jackson with "Rivals we looking flat! Come on Rivals! Come on guys!"
The important breakthrough came when Thomas, who had grown in confidence after surviving two close LBW shouts, hoisted Butler to forward of square, where Jackson took an easy catch moving in a few yards. That wicket seemed to galvanise Team Rivals who moved in for the kill as from the score of 88/3, Radcliffe slipped to 91/6.
James then found a useful partner in the big hitting Westrick Strough (35) who, not for the first time in the competition, muscled the bowlers out of the ground as the pair added 49 for the seventh wicket. The threatening partnership ended when James struck a full toss from Casmond Walters to long-on, where Marvin Small expertly held a dying catch to send his teammates into wild celebrations.
James struck 4 sixes and 7  sumptuous fours in his innings.
"I think we lost when I got out. I am confident that if I remained there to the end we would have won here. The pitch was good and I was seeing the ball," James told I-Witness News after the match.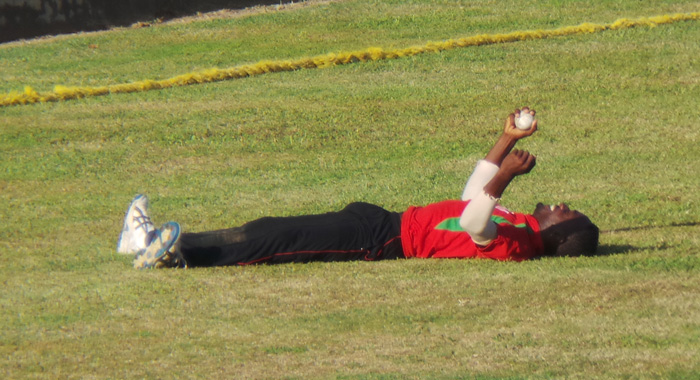 Strough, who struck 2 sixes and 2 fours, soon followed shortly after when he skied Hooper to mid-wicket where Roland Wilkinson took an easy catch.
The innings ending soon after, when last man Dyke Cato (1) was caught by Roneil Jeffrey at point slashing at Hooper.
Hooper 2/21, Walters 2/22, Jackson 2/25/ and Butler 2/38 combined to push their team to victory.
Earlier, Team Rivals showed their never-say-die spirit to haul themselves from the bothersome position of 99/7 to reach an eventual total of 205, after they had been asked to bat on a pitch that played a few tricks in the opening period.
It was left to Small to take responsibility and see his team to what turned out to be a winning total with an unbeaten half century.
Batting at number three, down from his position at the top of the order, the diminutive but arrogantly confident Small dug in deep and displayed a sense of maturity not seen from him most times.
In all, he faced 64 balls and struck 3 fours.
He featured in important partnerships of 30 with Butler (22) for the eighth wicket and 76 with Jackson (35) for the ninth wicket.
Jackson, showing all his experience and a high level of fitness, was able to deflate the Radcliffe fieldsmen with sharp running coupled with some telling blows over the infield. He struck 4 fours in his innings before falling to James off the final ball of the innings. Darren Greaves got 32 at the top of the innings with medium pacer Jamal Nash who caused the problems in the middle finishing with 3/51. Offspinners Dyke Cato 2/28 and Richie Richards 2/29 also collected wickets.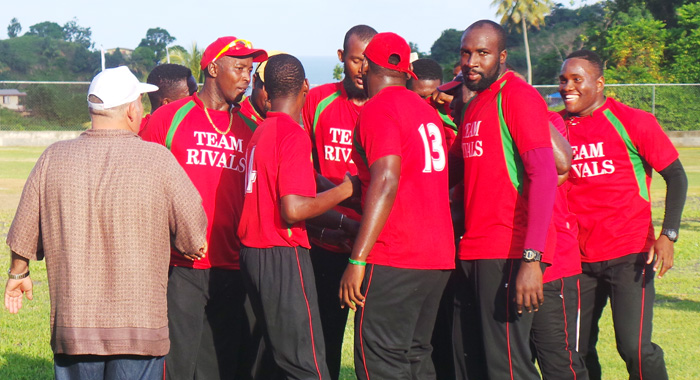 But it was Team Rivals who were the happier of the two teams with the knowledge of earning themselves EC$4000 this year — twice last year's prize.
"We played good cricket and we're always confident that we were going to win. Lindon batted well but he could not bat at the two ends. So once we were picking up wickets at the other end, it was only a matter of time," a beaming Jackson told I-Witness News.
Following the match, the teams agreed to give the spectators some excitement by playing a four over affair, which was again won by Team Rivals.
Batting first, Radcliffe rushed to 33 off their two overs, then Team Rivals, who lost a wicket off the first ball of their innings, needing 4 off the final ball, saw Walters hitting James out of the ground — his fourth six and third in the over.
In addition to the on-field action, sponsors Digicel provided some fun and credit with "Bowling for Credit", where spectators were asked to hit one stump for EC$15credit.
Three spectators, including one sports journalist, struck the stump.