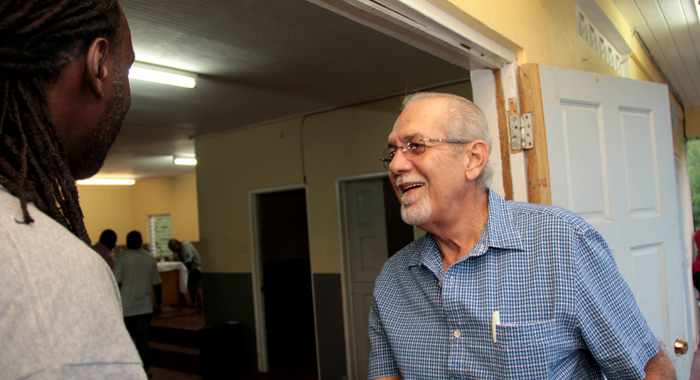 Homeowners at the government's housing development in Clare Valley, where a house collapsed two weeks ago, have been urged not to vacate their homes.
"We have built over thirteen hundred houses in this country, and, unfortunately, one has collapsed. One too many! One too many!" Minister of State in the Ministry of Works, Sen. Julian Francis told homeowners at a meting last weekend.
He said he felt it for physician Katisha Douglas, the owner of the three-bedroom concrete house that collapsed on Sept. 19.
"… and I understand how the minister feels that one house collapsed. I understand how he feels; I am in his mind too. I am in the centre of the government; it's burning me, it hurting me that one house failed. I will make sure that no more fail," Francis further said.
A homeowner at the meeting in Clare Valley hinted at the potential economic fall out if residents vacate the houses out of fear for their lives.
https://www.youtube.com/playlist?list=PLE77grULct-ETxRSto7OsFAWvRo80yaKE
"I don't want you all to evacuate your houses. I understand the fear. Trust me, I understand the fear. But it would not help us as a unit, as a development, as a neighbourhood, because, as you said this afternoon, if you so do, the bank is left with the property, your property. Those who stay –because all will not move — will depreciate," said Francis, who was minister of Housing when the majority of the 58 homes houses, each of which cost at least EC$130,00, were built.
"So, let us act as a neighbourhood. Speak to each other, talk to each other, console each other, but you have to see action and you are going to see action," he said.
Homeowners spoke at the meeting about the "disrespect" meted out to them by the Housing and Land Development (HLDC) (the state agency responsible for building the houses) when they complained about problems at the housing project.
Among the problems they identified were houses that were shaking, poor drainage, and "popping" tiles.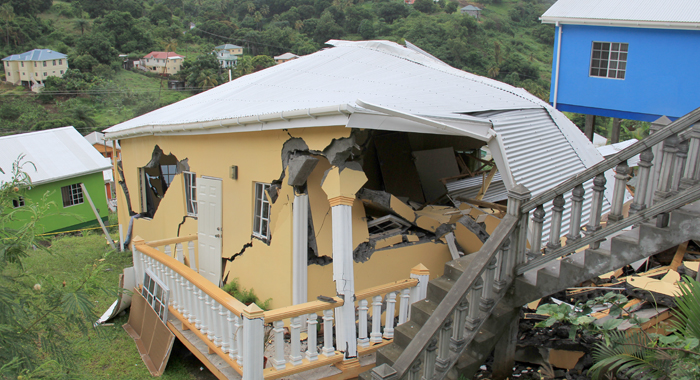 "One excuse I want to make for Housing and Land Development Corporation: we live through December, these fellas, they were occupied; they were concentrating on taking people out of the shelters," Francis said of the HLDC's efforts to build houses for victims of the December 2013 trough system.
"They have built between December and now the most houses they have built in their entire lives. One hundred and fifteen houses have been built between that period and now. Some of you fell in between," Francis said.
And, Minister of Housing, Montgomery Daniel acknowledged the problems at the housing development.
"… I have seen what you are complaining about, and, of course, I too, I share your concern," he told the meeting.
"… putting myself in your place, it is not easy for me to be living under some of those conditions. But I can say to you that this government has never run away from any such problems. And where there are problems, we respond and we respond positively to these challenges," the housing minister told residents.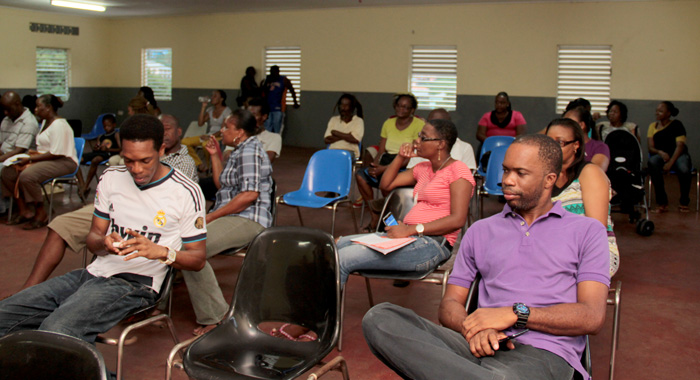 He said a soil specialist was expected to visit the area this week to assess the houses and make recommendation.
"The office of the Chief Engineer, as of Monday is doing a detailed analysis of every single house that is on site. The office of the Chief Engineer is also estimating the total drainage that is required. This will be done on the roads as well as where the plan itself shows between the houses where drains are to be established, that will also be done," Daniel said.
Francis told the meeting that the HLDC should have constructed drains before building the houses, or do both at the same time.
"… if after the assessments are done … it shows outside of the remedial works that … a new house is to be established, we will established a new house…" Daniel said.
"The Ministry, therefore, awaits those reports. So, it is regrettable that complaints may have been made to the HLDC and that affirmative action may not have been taken at the time. But rest assured, I want to say to you, I want to say to the homeowners of Clare Valley that this government will do what it has to do to ensure the safety of the people, the homeowners who would have established property at this project site at Clare Valley.
"… I want, as minister, to give you that assurance, but that assurance will be based on the assessment that will come from the technical people who will give us the data to move forward," Daniel said.
The houses were constructed as part of the government housing initiative, which has seen houses built in several locations across the country.