The controversial economic citizenship (citizenship by investment) programme was the main topic for debate in this year's Lions Club South/LIME Secondary Schools Public Speaking Competition, which was cancelled last year because the Ministry of Education and organisers could not agree on the topics.
(Scroll for full text of winning speech)
The two main political parties here disagree on the implantation of the initiative in St. Vincent and the Grenadines, with Prime Minister Ralph Gonsalves saying it can attract undesirables to the country.
On the other hand, Opposition Leader Arnhim Eustace has said that such a programme can redound to the nation's benefit, economically and that systems can be put in place to ensure due diligence is done on every applicant.
Eric February of Mountain View Adventist Academy was the overall winner in this year's competition.
Damali James of Bishop College Kingstown was second, while
Crislon Fraser of St. Vincent Grammar School placed third.
February also had the best student prepared Speech, while Andrieka Samuel of the Girls' High School had the Best Impromptu Speech, speaking on "Bad Roads".
The other finalists were Gailesha Huggins of Central Leeward Secondary School, and Shaiyeid Eunis of St. Joseph's Convent Marriaqua.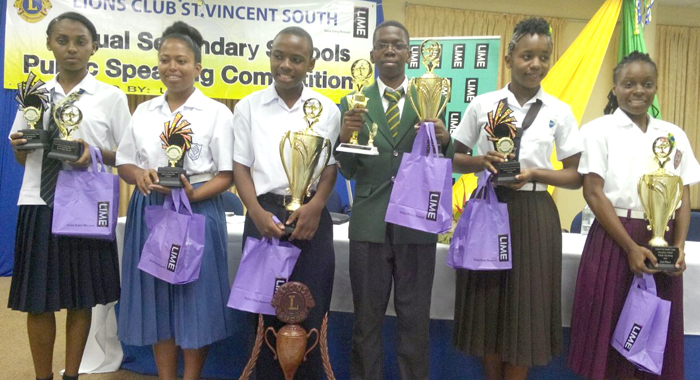 Following is the full text of February's speech on Economic Citizenship
Protocol

Topic

The moot before us is "Regardless of the risks the title carries, citizenship by investment, with all of its risks, is practiced by many countries with great success. Do the opportunities outweigh the risks?"

Introduction

In Matt 25, in the parable of the unprofitable servant, when called upon to account for the talent – that is, the opportunity given him, said, quote, " I was afraid and went and hid thy talent," end quote.

Mr. Chairman, before I proceed, please permit me to define the key terms and expressions.

According to the Merriam Webster dictionary the term Citizenship means "the status of being a citizen"; Risks means "the possibility that something bad or unpleasant will happen"; Opportunities mean "a good chance for advancement or progress" and Outweigh means "to exceed in weight, value, or importance".

This moot is therefore asking the question: Do the chances for advancement by engaging in a citizenship by investment programme exceed in importance the possibility that something unpleasant will happen?

In my presentation, I will first discuss the concept of citizenship; then I shall highlight the major risks involved and the opportunities to be derived by engaging in the citizenship by investment programe; I will then give a comparative analysis to justify my conclusion that the opportunities are worth taking the risks.

Citizenship

Who is a citizen and how does one become a citizen of a country?   According to the Merriam Webster dictionary a citizen is a person who legally belongs to a country and has the rights and protection of that country. Citizenship is the cement which binds members of a society; it's the unifying identity. In most countries the principal grounds for acquiring citizenship are birth within a certain territory, descent from a citizen parent, marriage to a citizen, and naturalization. Our concern in this debate is another mode of becoming a citizen, that is, by investment.

The finalists pose with officials from the Lions Club, LIME, and the Ministry of Education.

What is citizenship by investment? This is a programme that allows individuals and families to acquire an additional citizenship in return for a direct financial donation to the state or to a state charity.  In 1984, St. Kitts and Nevis was the first country in the Caribbean region to offer such a programme. Since then other Caribbean countries have joined the initiative. Many countries around the world, including the US, UK, Canada and many EU countries conduct similar resident economic programs.

Risks

So, what are the risks? Mr. Chairman, the major risk is FEAR — fear that a potential investor, being suspected of terrorist activity, money laundering or other serious criminal activity and being denied a passport in his home country, under this programme, might be able to secure one from another country. Countries involved in this programme are therefore at great risk of harbouring or being accused of harbouring criminals. Cases in point Mr. Chairman, on May 20, 2014, the Financial Crimes Enforcement Network (FinCEN) issued an alert that the St. Kitts and Nevis programme was attractive to individuals seeking to engage in financial crimes. Also, according to Fox News, Oct. 1, 2014, Grenada had to cancel its programme after accusations of money laundering. Mr. Chairman, there is also the additional fear of government officials involved in the administration of the programme succumbing to bribes, thus increasing internal corruption.

These risks have potential to damage the good name and reputation of citizens; significantly hampering future investment prospects and seriously damaging political relationships, resulting in adverse consequences such as visa restrictions.   These fears are real and reasonable but they could also originate from among citizens born right within the country. We heard in the news recently of Trinidadian nationals being recruited to join the ranks of ISIS. If this recruitment is successful, Mr Chairman, the likelihood of terrorism from within becomes even more frightening.

Opportunities

Now, what are the opportunities? This programme, Mr. Chairman, is an attractive opportunity to boost economic development. In St. Kitts and Nevis, for example, EACH successful applicant must either invest in real estate with a value of at least US$400,000, or contribute US$250,000 to the Sugar Industry Diversification Foundation. In Cyprus, one of the options offered to applicants is the payment of 2 million euros to the treasury and an additional, 500,000 euros must be donated to the Research and Technology Fund. Investors are also required to pay thousands of dollars more in administrative fees. These funds help to construct bridges, roads, hospitals, schools, hotels, stadiums, and so on; and the programme also generates thousands of employment opportunities.

Mr. Chairman, most developing countries rely heavily on direct foreign investments to stimulate and drive their economies. Our own Honourable Prime Minister, Dr. Ralph Gonsalves, in his 2012 budget presentation, stated that, quote, "St. Vincent and the Grenadines is hugely dependent on capital flows from overseas," end quote. That's why the Buccament Bay, the Canouan resorts and the Mustique Company, for example, exist. Also, on October 13, 2013, the Prime Minister of Antigua and Barbuda, described the citizenship by investment programme as, quote "an initiative which has the potential to transform the economic landscape of Antigua and Barbuda," end quote.

Opportunities vs Risks

Mr Chairman, are the opportunities more important than the risks?

I wish to submit that both are very important. In this imperfect world we would always face risks — Jer. 17:9, tells us, quote, "The heart is deceitful above all things, and desperately wicked," end quote. We MUST therefore take our chances. Let me share an analogy that would definitely help us understand this conundrum. Each of us, in leaving our homes, took great risk in being robbed, of getting into a fatal accident, in having our homes broken into. So, what have we done? We put measures in place to mitigate these risks and WE TAKE OUR CHANCES! We do not pretend that the threats do not exist; BUT NEITHER DO WE, LIKE THE UNPROFITABLE SERVANT, BURY OR IGNORE OUR OPPORTUNITIES.

Conclusion

Therefore, Mr. Chairman, the fundamental question …, if I may use our blessed country as an example, is, "do our government and people possess the intellectual and political capacity as well as the moral will, to do the due diligence necessary for implementing such a programme? This was a major concern of our Honourable Prime Minister who is quoted in Caribbean360.com on August 5 2014, as saying, quote "If you have a flood of application … you tell me you are doing the due diligence … you are going to get caught," end quote.

Mr. Chairman, once countries are prepared to do due diligence in order to keep away undesirable investors and effectively monitor internal activities, then THE OPPORTUNITIES TO BE DERIVED ARE DEFINITELY WORTH THE RISKS. In fact, other countries like ours, have implemented this programme with great success, why can't we? Let us seek God for wisdom and courage ….

Mr. Chairman, I thank you.